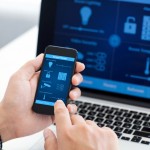 Are you
buying a home this spring
? Are you a new homeowner looking to protect your investment with a home security system? It used to be that you had two or three security companies to choose from, all of which functioned roughly the same. They were all pricey, involved some hardwiring, demanded long contracts, and were notorious for calling the police when cats climbed on the countertops or a storm shook the house. Today, it's a completely different story. Consumers have so many
home security brands
to choose from, each with so many different bells and whistles. Because it can be overwhelming, here's a guide to help you understand the most common features available today and figure out which ones are most important for your needs.
The hub
Almost every system will start with a hub, base, or central controller that plugs directly into your internet router and connects via your Wi-Fi. It's what allows you to connect all the devices together. The base is generally the most expensive part of the home security system and determines what brand you're aligning yourself with. You can't mix and match brands, so if you buy the base of one brand, you'll have to buy that brand's motion sensors and other auxiliary devices. Though the lack of standardization amongst brands isn't ideal, there are a number of effective, straightforward systems currently available to meet the basic needs of just about everyone.
Door or window sensors
Most systems now have an easy way to make sure no door or window is open without your knowledge. Most of the surface sensors use magnets, solving one of the oldest problems with the old pressure sensors (internal doors opening and closing in the house can set them off) and vibration sensors (a good storm could make them think someone was breaking the window). These new systems also don't require unsightly wires tacked alongside the interior walls.
Motion sensors and cameras
Motions sensors have been a part of home security systems for a long time. But recent innovations have enabled developers to build better systems that can distinguish between pets and humans. Some new systems on the market even have facial recognition, so you can program your family into the cameras so your kids won't set off the alarm when they come home from school. One thing to keep in mind, though, is that most of the systems with motion sensors and/or cameras will only notify you if something happens; they won't call the police. A few systems do provide this feature for an extra monthly fee that can run anywhere from $15 to $50 a month.
The app
Possibly the best bit of detective work you can do while looking for a new home security system is checking out the app before you buy to make sure you like the way it functions. It's the portion of the home security system you'll be interacting with the most, so how you feel about this one part of the system will greatly influence how you feel about the system as a whole.
Since the Internet of Things hit the scene, there has been a rapid proliferation of new devices aiming to help you keep an eye on your home when you're away. With this guide, you'll have a better sense of the components in each IoT system and what you should keep in mind when considering your home's needs.
Have you recently updated your home security system? What worked best for you? Tell us about it on Twitter or Facebook! And if you're looking to buy this spring, contact us!