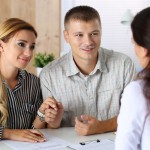 Prospective home buyers are flocking to online mortgage applications and automated approval processes. And it's understandable. Filling out a few forms online is easy and gives you quick insights into your mortgage loan options, all from the comfort of home. But don't mistake them as a replacement for speaking with a licensed originator. There are a number of reasons it's important to go through the final process with a real human.
Pre-qualification vs. pre-approval
It's easy to get confused by these terms, and the meaning behind them couldn't be more different.
Pre-qualification essentially just gives you a quick glance at the mortgage loan amount you might get from a mortgage lender. It's a sneak peek that considers your income and debt, and performs a few quick calculations. But nothing is guaranteed, and pre-qualification skips over a lot of important information that could significantly change your eligibility for a mortgage loan.
Pre-approval is a more detailed process that considers your credit report in addition to income and debt, and then verifies all the information in order to approve you for a set maximum mortgage amount. Where pre-qualification can be done through an automatic process, a loan officer is responsible for pre-approvals. Plus, once you get pre-approved, you can make appointments with realtors and put down initial offers on houses.  
Mortgage lenders are experts
Everyone is different and everyone's financial situation is unique. By speaking directly with a loan originator, you have the chance to ask questions, talk through concerns, and get personalized insight into how each aspect of your finances might factor into your application. You definitely want to talk to a loan originator if:  
You're self-employed. Income is determined differently if you're self-employed. Self-employed individuals, freelancers, and small business owners also find those unavoidable fluctuations in their income from year to year are nearly impossible to accurately explain in an automated application process. A loan originator will understand this isn't a mark against you. It's just what happens when you run your own business.
You work overtime hours. Many people regularly work overtime, so you'd think those hours would be automatically added to their income in the mortgage application. But incorporating overtime requires extra verification that can't be done through an automated process.
You're not perfect. Who is, right? If you have any blemishes in your financial or credit history, they could affect your application. For instance, did you miss credit card payments because you were in the hospital or caring for a loved one? Unlike a rigid, automatic software program, a loan officer will take circumstances and context into account when reviewing your application.
Buying a home is one of the biggest decisions of your life. You deserve to get the best mortgage for your individual needs. Automated application systems are nowhere close to catching up with the kind of nuanced approach loan experts employ every day in order to get their clients the best mortgages possible.
Are you in the mortgage application process? How's it going? Join the discussion on Twitter or Facebook! And if you're in the market for a new home, get in touch with us! Our mortgage experts are ready to help you through the process.