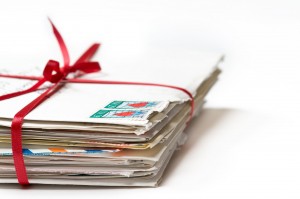 In many markets such as Las Vegas, Phoenix, and Portland demand for homes is beginning to hit a feverish pitch. Supply is low and homebuying season is in full swing, leading to multiple offers on prime properties in many recovering markets.
With so much on the line when you make an offer on a home and so much emotion that goes into the purchase, making sure you have taken all the necessary steps to make your offer stand out from the rest is important. One way to do this is by including a personal letter with your offer.
 The Strategy
It is best to submit your letter along with your offer and always be sure to do it through your agent. Going rouge and sending one direct to the seller can be considered invasive.
Adding a personal touch by making it a hand written letter can really help. Particularly in the digital age, hand written letters are becoming more of a novelty, so adding that personal voice can help you connect with the homeowner.
Include a family photo along with your letter as an added touch. Putting a face to the offer can be very persuasive.
The Content
Include details and features about the home that you love. Perhaps it's the garden, the community it is in, the porch or the trim. Its likely the homeowner also has fond feelings for those aspects of their home and can relate to you that way.  CAUTION: Keep it short and sweet. You don't want to give too many compliments and make the seller feel like they have underpriced their home.
Details about yourself and your family. Include names and ages of kids, pets, anything that can pluck at the sellers heartstrings.
Your commitment to the home. Chances are, the seller has an emotional attachment to the home so letting them know that you will take good care of their home and maintain the homes integrity can give the seller piece of mind.
Anything else you might have in common.
So before you make your next offer on your next dream home, take a little extra time to add a personal letter. You never know, that might be exactly what was needed to win out the competition.
If you're planning to purchase, refinance, or learn more about mortgage rates, simply fill out our Fast Response form or give us a call at 888-644-1999.  Our experienced mortgage professionals would love to sit down and discuss your needs. We look forward to hearing from you!
Tags: best time to buy a home, first option lending, first option mortgage, first time home buyer, home mortgage, house hunting, mortgage lending