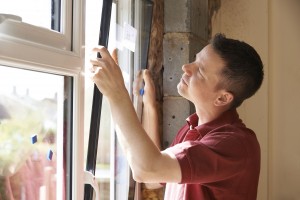 Maybe they're drafty or you just don't like the way they look. Either way, you've made the decision to replace your windows. While it seems like a daunting task, replacing windows can be a creative process that doesn't have to break the bank. Our DIY guides are second to none, and with a few fundamentals in mind, you can do it yourself or select a contractor with ease.
The basics
Keep a few things in mind when replacing your windows. Decide whether you'll be able to use replacement windows. These are fully assembled windows that slide into an existing opening with only a little bit of fuss. If that's the case, this is a great DIY project, but also shouldn't cost too much to hire someone else to do. However, if it's a larger project or window, you might want to find someone else to help you out, as this can be costly and expensive to repair.
The DIY route
If you've chosen the DIY route, you've probably got replacement windows on the brain. To move forward with the install, consult an online guide or seek some help from your local hardware store. Either way, the fundamentals are pretty simple:
Measure the window

Remove the old window sashes

Install the new window
There's obviously a lot of finesse and detail involved in each of these steps, but if you ask a lot of questions at the hardware store, you should get plenty of shared expertise.
Contract the contractor
If your window replacement isn't going to be an easy task, finding the right contractor for the job can be tough. You need the trifecta of affordability, expertise, and accessibility.
Make sure to decide in advance which kind of window work you'd like. You could be looking for a complete redo with custom built windows, or just a replacement window job. You should also know which type of window you want. After you've got that sorted out, make sure to do your research and get multiple bids from contractors. That way you know you're getting a competitive price. Ask for references to make sure you're going with a reputable contractor.
Once that's done, voila! New windows. Share your window success with us on Facebook or Twitter. And if you'd like more information about finding a mortgage, get in touch today!
Tags: DIY, homeowner advice, homeowner tips, house upkeep