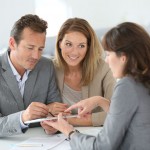 In the aftermath of a shocking financial crisis, people are still flocking to a career in mortgage lending. Especially as people think about how much money they can make if they work hard.
Make no mistake, a Mortgage Loan Originator (also known as a Mortgage Loan Officer or Broker in some circles) plays a vital role in the homebuying process. Originators assist borrower with the preparation of their mortgage. This means that they're also responsible for developing business contracts, attracting borrowers, completing mortgage transactions, and supervising their own staff. The officer is the main contact with the borrower.
It may sound like a lot of work, but we've spoken to  our own mortgage officers to get the full picture to why you should consider a career in mortgage lending, and how it can be the most lucrative career yet!
Make dreams come true
As a mortgage lender, your job is to build relationships, work with clients, and help them get the best loans possible. So it shouldn't come as a surprise that the most successful lenders are usually outgoing people who know how to make others feel at ease. Mortgage lending used to be a sales position, but these days it's more of a consultant role. When potential clients arrive at your desk looking to buy a home, they're facing a big life change. You assist them by explaining all the available options, listening to their concerns, answering questions, and then helping them work through the decision.
Work wherever you want
Having a traditional office is no longer critical for mortgage lenders. Though most of them like to meet with clients face to face to discuss some of the more complex aspects or go over paperwork, much of the job can be done anywhere. Once you get your license and get hired, many companies will happily help you get set up in a home office. But if going solo isn't really your style, many banks, credit unions, car dealerships, and other businesses are always looking for on-site mortgage lenders.
Enjoy job security
Job security for mortgage lenders is mostly tied to the economy. With recent economic growth, projections for this career path look good. The U.S. Bureau of Labor Statistics predicted mortgage jobs would steadily increase by 7.7 percent between 2012 and 2022. And with the economy continuing to recover and grow each year, more and more Americans are in the market for those big ticket items. Overall, new home construction is still lower than it was before the market crashed in 2008, but that hasn't stopped builders and developers. To make up for the lost income from fewer jobs, they're focusing on building for the high-end market, specifically $1 million and higher. Many of those potential buyers will be looking for loans in the next few years.
Get paid well — then get paid more
Mortgage lenders generally make good money. Though some are on a flat salary, most make the bulk of their income on commissions. The low end hovers around $35,000 annually, while median pay is about $60,000. Skilled lenders can take home $300,000 or more per year. It's a job that rewards hard work, too. Because lenders are usually paid on commission, the difference between the low and high earners has more to do with how much time and effort they put into the job. If you're tired of jobs that pay based on seniority over quality of work, you might find being a lender is more rewarding.
Mortgage lending requires a certain kind of personality. Not everyone will thrive in the role. But it's the perfect option for an extrovert with great communication skills and a strong desire make an intimidating process more enjoyable for everyone involved. If you have the right temperament for the job, mortgage lending can be an incredibly rewarding career path.
Now, potential mortgage lenders simply need to know where to start to get into the space! Ready to start your career in mortgage lending? We're always looking for great new talent to join the First Option Mortgage team. And don't forget to join us on Facebook and Twitter too!