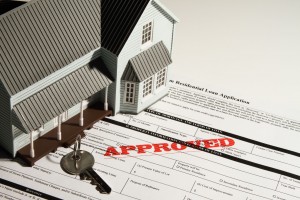 We know that
buying a home is a complex, multi-step process
. A lot of home buyers overlook a potentially useful early step in the process: pre-qualification. If you haven't heard of a pre-qualification, you're hardly alone. It's not as big or as flashy as its older sibling, a pre-approval. But a pre-qualification is a handy step on the path to owning your dream home. Here's how it can help you.
What is a pre-qualification?
Getting pre-qualified for a home loan is a preliminary step in eventually purchasing a house you'll love. In order for you to become pre-qualified, a lender will look at factors such as your employment history, debt-to-income-ratio, assets, and potential down payment. Your loan officer will most likely talk to you about your estimated credit history, though a pre-qualification doesn't involve a credit check. When you have this conversation with your lender, it's generally helpful to bring documentation such as pay stubs, tax histories, and the like. Even though things at this stage are preliminary, precision is important.
Working with this information, a broker will be able to give you a picture of how much house you can afford in a market or markets you wish to live. It's a step that allows you to know yourself better before going further in the home buying process.
What a pre-qualification isn't
Being pre-qualified isn't the same as being pre-approved. They're very different things. Getting pre-approved for a home loan means a deeper look into your financial situation (such as pulling your credit report) and is more of a commitment. If you get a pre-approval, that means a lender is willing to provide you with a mortgage. As we've said before about pre-qualifications versus pre-approvals, think of a pre-qualification as a learner's permit and a pre-approval as an actual driver's license. You'll get your license eventually, but you need to ease into it.
Why getting a pre-qualification is helpful
A pre-approval is powerful, but that also means it comes with certain strings attached. For instance, once you get pre-approved for a loan, it generally lasts for only 90 days. That means as soon as you get that pre-approval, the house hunting begins. Starting out with a pre-approval means immediately diving into the deep end of home buying. Depending on your needs, that might not be right for you. You will eventually need to be pre-approved, but if you're only in the preliminary stages of buying a home, you might not be there yet.
After getting pre-qualified, you'll have a better picture of where you stand with your own finances, and how you can fit into your local housing market. Then you can research which home loan is right for you. You'll still have time to plan for buying a home, make financial changes, and shop around for a lender who can meet your needs. Eventually, you'll be able to get pre-approved, and that's when your quest for a home will kick into high gear. With pre-qualification, you'll be better informed and more prepared when you finally get a mortgage.
Are you thinking of buying a home soon? Have questions about pre-qualifications, pre-approval, or mortgages? We're always here to help. Get in touch with us anytime, or connect with us on Twitter and Facebook.
Tags: home buying, Home Loans, Mortgage