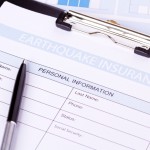 Purchasing homeowner's insurance is a standard practice for homeowners, but did you know that earthquake damage is not covered by
a traditional homeowners insurance policy
? That means a disastrous earthquake can wipe out any equity you have built in your home and, to make matters worse, you would still owe the bank anything you owed on your home, even if it is completely demolished or requires significant repairs to be habitable again.
So, if you're wondering, "Should I get earthquake insurance?" ask yourself the following questions.
Where do I live? The word "earthquake" is synonymous with California and yet two of the most destructive earthquakes in U.S. history happened in New Madrid, Missouri and Charleston, South Carolina. The U.S. Geological Survey says that 42 states are at risk so speak to your insurance agent to find out if you live in an earthquake-prone area.
Are you counting on funds to assist you? One of the most common reasons people forgo earthquake insurance is that they are counting on federal relief funds. The problem with this mode of thinking is that disaster relief funds are largely handed out in the form of loans.
Isn't earthquake insurance expensive? Homeowners are often put off by the way earthquake insurance deductibles work. Rather than a flat dollar amount, earthquake insurance deductibles are typically a percentage of your home's total value. So, if you have a home worth $150,000 and your earthquake insurance policy has a 10% deductible, you will have to pay the first $15,000 in repairs before your policy takes over. Even so, your earthquake insurance costs are always based on the risk associated with where you live so the lower the risk, the lower the cost.
If you're wondering, "Should I get earthquake insurance?" contact us at First Option Mortgage and we'll discuss your options.
Image Source: iStock.com/asbe