Sending your kids off to college can be a traumatic experience for your bank account.
The cost of tuition and fees has increased by a staggering 213% since 1988
. While student loans and scholarships can help mitigate expenses, some families may need to lean on existing assets to help pay for increasingly expensive education. In some cases, a refinance mortgage rate is lower than the interest rate from your initial loan. A lower rate would lower your monthly payments and free up extra cash for college tuition.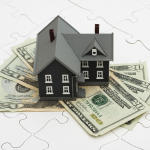 Tap into home equity with a cash-out refinance
If the value of your home has significantly increased since you bought it and you're able to snag a lower mortgage rate, you may be able to cash out your existing equity to help pay for college without breaking the bank or taking out additional loans. By cashing out equity (instead of taking out a home equity line of credit), you avoid having to list your house as collateral for your student's education.
Lower your monthly payment
Do phone calls to your undergrad end with, "Could you please send me some money?" If so, you probably could use some wiggle room elsewhere in your finances. Depending on your situation, refinancing your home to take advantage of a lower interest rate could decrease your monthly payment, freeing up funds to help out your starving student.
Shorten your home loan's term
Now that your kids are heading to college, you're probably eyeballing your retirement date a few years down the road. If you refinance at a lower, fixed rate and only slightly up your monthly payment, you could significantly cut the number of years left before your home is paid off. Choosing to pay a little more in the short term can pave the way for paying off your home in time for retirement — freeing up additional funds to travel or buy that boat you've had your eye on for so long.
While there are many reasons to refinance a home, it's important to review your own financial situation and goals before applying. Learn more about how to get started with refinancing with our different refinance options. For more information on the benefits of refinancing and what option is best for you and your family, contact us online or give us a call at 888-644-1999.
Tags: home mortgage, refinancing, second mortgage