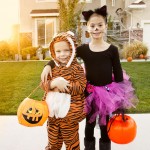 Every year, Zillow releases its
Trick-or-Treat Index
. We think it's one of the most important annual reports, for obvious reasons. It gives folks with kids a good idea of where to get the most candy in the least amount of time — and do it safely. This year, Phoenix jumped a staggering 11 spots to reach the fifth spot on the list. Zillow creates the index "using four equally weighted data variables: median home value, housing density, population age, and local crime rates." Let's break down why each variable is important:
Median home value
Using the Zillow home value index, the report analyzes the value of homes in single family residences. That's where all the good candy is going to be. Ideally, the more money people have, the more they're willing to spend on their Halloween candy. That could mean king-size candy bars for days!
Housing density
The housing density portion of the index looks at how close houses are, on average, to their neighbors. How quickly your little devils (and princesses and minions) can move from house to house is directly proportional to how much candy they can stuff in their bags.
Population age
The index also looks at the average age of homeowners in the city. While this might not seem important, keep in mind that homeowners with children are more likely to cater to children. And the more houses that keep their porch lights on, the better.
Local crime rates
Unfortunately, Halloween means some people will be doing more tricking that treating. But Phoenix's lower crime rates mean that you'll be able to take the kids out without worrying about any nightmarish activity. But it never hurts to play it safe. Take the kids out early, and make sure to stick to well-lit paths.
Taking all of these points into consideration, Zillow even determines which neighborhoods in each of its top cities will yield the most bountiful harvests. Topping the list of trick-or-treat-friendly Phoenix Urban Villages this year (in order) are Alhambra, Paradise Valley, Deer Valley, Camelback East, and Ahwatukee Foothills. We recommend hitting all five for maximum sweetness.
While we're jealous that everyone in our Phoenix branch will be getting all the good treats this year, a few of our other branch location cities also made the list. To learn more about those cities (and where the best candy is), contact them today!