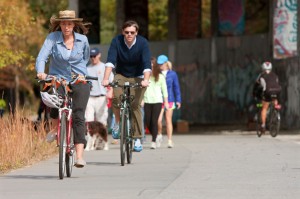 As the Atlanta housing market continues to grow and strengthen, a few buying trends have emerged—and any potential homebuyer needs to take note. Quite a few neighborhoods in Atlanta have suddenly become desirable since the housing recovery began, and quite a few others are next in line. Houses along Atlanta's BeltLine are predicted to be some of the hottest sellers in the coming years, which means right now is the time to buy.
History
Atlanta's BeltLine is known throughout the nation as one of the most comprehensive urban development projects in the United States. Offering access to pedestrian rail transit, public art, 1,300 acres of parks, and hiking trails, the BeltLine is significantly changing the perception of Atlanta's suburban sprawl. Though the project isn't complete, it's already reinvigorating the urban center and the entire city, making neighborhoods around the BeltLine more and more appealing to house hunters.
Proximity
BeltLine neighborhoods are connected to each other and nature, but they remain close to the center of Atlanta as well. Houses in Adair Park, specifically, are only three miles from downtown, and because the whole BeltLine forms a true looped belt around the city, others aren't much farther. This proximity appeals to homebuyers who either can't afford or don't want to live in a dense urban setting but want to see the city more than a few times a year.
Cost
Relatedly, many neighborhoods along the BeltLine remain affordable for first-time home buyers. The area includes forty unique neighborhoods. All have unique price points, but many if not most have homes within reach of most Atlanta house hunters. This may not be the case for long. As the development continues moving forward and the Atlanta housing market continues to recover and strengthen, homes along the BeltLine are increasing in value. The "best kept secrets" right now are lauded for their charm and accessibility, but within a few years these homes will be among the most desired in the metroplex. People who take advantage of the real estate opportunities now will have a home—and investment—for the coming years.
If you're interested in  purchasing and would like to speak with a local real estate expert, call Jamie Hook at Better Homes and Gardens at (770) 596-5788. If you would like to learn more about mortgage rates in Atlanta, simply fill out our Fast Response form or call our local branch at (770) 226-5800. Our experienced mortgage professionals would love to sit down and discuss your needs. We look forward to hearing from you!
Tags: Atlanta Mortgages, best time to buy a home, first time home buyer, Georgia Mortgage, house hunting, housing market statistics, Real Estate