Mortgage
interest rates
have been on the decline for some time now and toward the end of 2012, hit lows not seen since the 1950's. That combined with a dynamic housing market has triggered an increase in the number of a fixed rate mortgages in Minneapolis being requested for both new home purchases and refinances.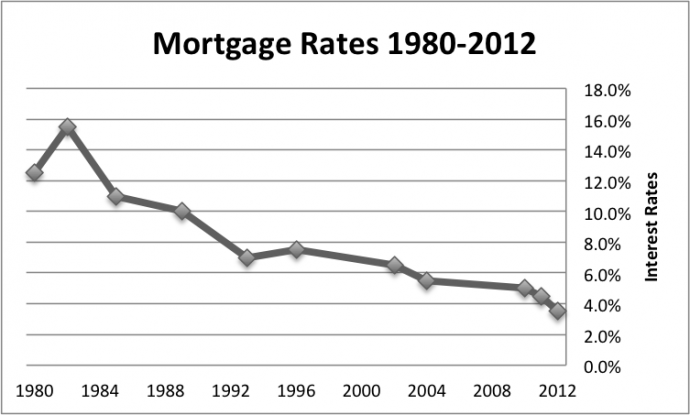 There are many benefits to going with a fixed rate mortgage. It is the most common and uncomplicated mortgage available to homeowners with interest rates that remain the same for the duration of the loan. This means your mortgage payments will stay constant and predictable. You will typically see this type of mortgage offered as either a 30-year fixed mortgage or a 15-year fixed mortgage.
30-Year Fixed Mortgage:
As you can probably gather from the name, this mortgage is amortized over thirty years with the majority of early payments going toward interest and the bulk of the later payments going toward principal. Your interest rate will be slightly higher if you choose a 30-year mortgage, but the payments will be lower since your spreading them out. A 30-year fixed rate is especially nice in Minneapolis, where rapidly rising home values can price you out of a desirable neighborhood like Calhoun Beach if you cannot spread the payments out over an extended period of time.
15-Year Fixed Mortgage:
These can have anywhere from 1%-2% lower interest rates compared to a 30-year fixed. That, plus the ability to build up equity in your home more quickly makes a 15-year fixed mortgage a very desirable option if you have the funds to afford the higher monthly payments.
Minneapolis saw a strong housing recovery in 2012 making it possible for more borrowers to refinance from an adjustable rate mortgage to a low interest fixed rate mortgage. This trend is predicted to continue well into 2013 with strong buyer demand and accelerated price increases.
With only a three-month supply of homes on the market and the aggressive interest rates that are currently available, now is a good time to get pre-approval for a fixed rate mortgage and begin your home search before the increased demand of the buying season drive home prices up and inventory down.
If you are interested in talking with one of our mortgage specialists about qualifying for a fixed-rate mortgage, simply fill out our Fast Response form or give us a call in our local branch office in Edina at (952) 278-9900. Our experienced mortgage professionals would love to sit down and discuss your needs. We look forward to hearing from you!
Tags: 2013 home prices, 2013 Housing Trends, first option lending, first option mortgage, Minneapolis Home Loan, Minneapolis Mortgage, Minneapolis Refinance, Minnesota Mortgage, Minnesota Mortgage Lender, mortgage interest rates, mortgage lending