While homes across the U.S. have been increasing in value, homes in the Denver and Dallas markets are appreciating faster than other parts of the country.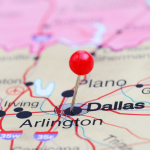 Dallas home prices in May were up 8.4 percent over the previous year, and nearly 84 percent of homes in the Denver area gained value in the past 12 months. Nationally, homes have increased in value by just over 4 percent, so what's going on in these two cities that's keeping their housing market so strong?
Diverse Dallas-Fort Worth economy boosts housing prices
For Dallas-Fort Worth, much of the pricing increase has to do with diversification in the area's economy. Dallas-Fort Worth has long been a stronghold for the oil and gas industry, but its non-energy industry sector is booming as well. While oil prices have struggled in 2015, the tech and transportation industries in the city have grown. Strong job growth is pushing prices up, especially in a market where housing inventory is already pinched.
Denver's growing economy keeps housing market strong
For Denver, it's all about growth — the city was recently ranked the best city for business by Forbes. Companies in multiple industries are relocating to the Denver area because of the highly educated labor pool and outdoor recreation offerings. The influx of new businesses and people is increasing the area's population and putting homes in high demand.
To learn more about buying a home in the Denver or Dallas areas, contact us today.