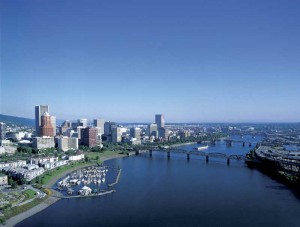 With its 'Keep Portland Weird' mystique, swarms of bicyclists, resistance to conformity, and general apathy for outsiders, Portland, Oregon may not be for everyone. But don't let shows like
Portlandia
frame this charming little city as the West Coast's stepchild. Tales of Portland's 'weirdness' are largely exaggerated; in fact, Portland offers many lifestyle benefits to first time homebuyers and is on the brink of an upswing in the housing market. Here's why:
Economics
Portland recently joined the National Association of Home Builders list of improving markets. The housing market in Portland continues to improve as less inventory is available on the market. The cost of living in Portland is slightly above the national average but far lower than other west coast cities such as Seattle, San Francisco, or Los Angeles. A recent article in the Oregonian details the fact that Portland is a seller's market. Homeowners can rest with some assurance that should they ever want or need to sell their property, the competition for inventory will ensure a quick sale, making Portland a safe market for first time buyers.
Lifestyle
Portland offers something for everyone, especially outdoor enthusiastic, bike riding, beer loving, foodies. A vibrant, family owned/operated restaurant scene with gourmet food for reasonable prices is a Portland cornerstone. If that's not enough for you, the food cart craze possessed P-town a few years back and now there are food cart 'pods' every few blocks offering amazing food for the somewhat adventurous.
Portlanders are notorious for loving their bikes, brews, canines, and coffee – all in copious amounts. The Pacific Northwest was the birthplace of the microbrew explosion and Portland boasts dozens of quality, household name breweries. Portland has recently experienced a distillery explosion as spirits have now gone micro. Tours of both brew-houses and distilleries can be arranged daily, or get a group together and take the 'Brew Cycle.'
Portland boasts many economic and lifestyle benefits to the first time homebuyer. To speak with one of our local Portland mortgage lenders about our current mortgage rates, simply fill out our Fast Response form or give us a call in our local branch office in Lake Oswego at (503) 840-6400. Our experienced mortgage professionals would love to sit down and discuss your needs. We look forward to hearing from you!
Tags: first time home buyer, oregon, Portland, portland lifestyle, Portland Oregon Home Loan, Portland Oregon Mortgage