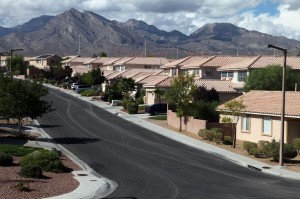 As of February 18
th
 there were about
17,062 single-family homes
and condo homes listed for sale in Las Vegas with a median home price of $139,000. Since this time last year, the inventory of homes for sale has decreased by 24.2% and the median price has increased 15.9%.  So, where did all the Las Vegas housing inventory go? Here's a breakdown of where that inventory may be hiding:
Sellers Are Waiting Sell:
Of course everyone wants to buy at the bottom, but who wants to sell at the bottom? With the market showing signs of a rebound and consistent increases in home prices each month, sellers may be sitting on the sideline waiting for a more optimal time to put their house on the market.
Foreclosures Have Slowed:
The shadow inventory in Las Vegas is smaller than expected, but there are still homes in limbo waiting for the foreclosure shoe to drop. Since the "robo-signing" scandal in 2010, banks have slowed the foreclosure rate and are also working more diligently to approve loan modifications for buyers underwater on their mortgage.
An Influx of Investors:
Cash investors have been flooding some of the hardest hit markets such as Las Vegas and speculating on housing prices as the market begins to turn.  Prices on bank owned homes are on the rise as these cash investors gobble up the inventory looking for cheap deals on homes they can flip or rent out.
Builders Are Slow to Resume Building
New home starts are at their highest level since July of 2008, but to put the numbers in perspective, housing starts are still 60% below their peak in January 2006.
The balance is finally beginning to shift as markets slowly but surely recover from the lows of housing crash. While the housing market may be shifting toward the seller, there are still plenty of deals to be found in the Las Vegas real estate market. Las Vegas mortgage rates remain low and prices competitive, making today a good time to consider purchasing.
If you're currently planning to purchase, refinance, or learn more about mortgage rates, simply fill out our Fast Response form or give us a call in our local branch office in Las Vegas, Nevada at 702-669-5400. Our experienced mortgage professionals would be happy to discuss how we can help.
Tags: first option mortgage, Las Vegas Home Loan, Las Vegas House Hunting, Las Vegas Mortgage, Las Vegas Mortgage Lender