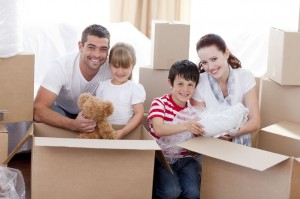 It's a question most homeowners have to consider at some point: Does your current house meet your needs? As families grow and possessions accumulate, the homes we bought a decade ago suddenly aren't as spacious as they used to be. No house is perfect, and any move requires logistical planning and financial commitment, but sometimes it's the best decision for your life. If you're questioning whether or not you should consider a move look for a few of these signs that you need to move into a bigger space.
You're Out of Room
If you've already converted your home office into kids' bedrooms, and there's another little one on the way, and your in-laws expect a bed every time they visit, you should consider a bigger home. Our houses should accommodate our most basic needs, space being one of them. An extra 500 square feet can relieve a lot of domestic tension, giving your family the space it needs to grow and move about.
Impractical Floor Plan
The layout of some homes are just impractical, plain and simple. Especially if you're preparing for major life changes with a new baby or an elderly relative moving in, you need a floor plan that can accommodate these needs. A bigger home can give you space for an in-law suite—or a downstairs master bedroom, with easy access to a nursery.
An Addition Isn't an Option
Many homeowners who just need some extra room take out a line of credit and build an addition. Adding an extra bedroom or extending your living room area saves you the move, but these options aren't available for everyone. If zoning or HOA regulations prevent you from building an addition, or if there just isn't enough space on your lot, you should consider moving into a bigger home.
You Have Enough Equity for a Down Payment
Even if you're stumbling over pets and your kids' toys every day, if you can't afford to put your home on the market and invest in a new property right now, you shouldn't. This moving cost calculator is a handy tool for anyone who's thinking about moving. Take stock of your current financial situation, and see if the equity you've already built up in your current home would be enough for a down payment on a larger home. If the numbers aren't there, continue building equity and start a savings plan toward a bigger home. If you do have the funds to buy a larger property, it may be the right time for you to move.
You're Ready for the Change
Buying your first home can be an emotional investment, and even if you've outgrown the space, it may be hard to leave. Consider what you love about your house and neighborhood, your yard and amenities, and think about how these things will change when you move. Buying a larger house isn't just about leaving behind the home you've established; it can also change your social and geographical status. Family members may view you differently once you're in a five-bedroom home, and friends may not visit as often if you move out to the suburbs or countryside. More space can benefit your life in many ways, but be sure you're ready for the other changes that come with a bigger home.
If you're interested purchasing a larger home or refinancing to make your current house more suitable for your needs, or if you just want to learn more about our mortgage rates, simply fill out our Fast Response form. Our experienced mortgage professionals would love to sit down and discuss your needs. We look forward to hearing from you!
Tags: best time to buy a home, first option mortgage, first time home buyer, house hunting, Selling Your Home