So you're ready to buy your first home. You applied for a mortgage loan – but now what? Like most people, you've probably already done some window shopping online or started making your list of must-haves. While knowing what you want is important, there are many other aspects to consider before launching headfirst into the home buying process.
What to expect when buying a home
The current competitive home buying landscape makes it tricky for first-time buyers to get exactly what they want (unless they're extremely qualified). Bidding wars are driving up prices and desirable listings are selling fast. As a new home buyer, you should adopt a "move it or lose it" mentality when it comes to acting on a property you love. Be ready to act fast in order to give yourself the best shot.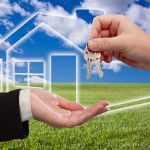 The competitive market also means you may have to sacrifice a few things on your wish list in order to stay within your budget. Expect to make concessions on location if home size and features are most important to you, and vice versa if you're more interested in being in a desirable neighborhood.
While some things may change over the course of your search, some of the tried-and-true home buying advice remains the same. If you want a great mortgage rate and lower monthly payments, you should try to save for a 20 percent cash down payment. Check out our advanced mortgage calculator to see what your monthly payments will be, as well as a principal and interest breakdown. You can see the difference a larger down payment will make on your loan. Depending on your market, 20 percent cash down payment could be a very sizable sum of money. However, there are some state and federal programs that offer down payment assistance for first-time home buyers.
What not to expect when buying a home
While it can seem like your first home needs to have everything on your wish list, remember that you're shopping for your starter home, not your dream home. Baby steps! First homes are rarely perfect, but if you make a smart investment, your starter home will be a great way to build equity for something better down the road.
Depending on your budget, you may be purchasing a property that needs some TLC. No problem! Home improvement projects can be extremely rewarding. If you make the right renovations and fixes, you can easily turn your sweat equity into real dollars by the time you're on the hunt for something new.
Ready to buy your first home? Contact us online or call us today at 888-644-1999 for more information.
Tags: first time home buyer, house hunting, Real Estate Tips