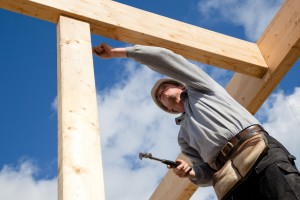 Finding the perfect home is never easy, which is why many people avoid the market altogether and decide to start from scratch. Choosing to build your own home attracts people for myriad reasons, but the most prominent of them is the increase of control. Whether you want to build a custom house, a town home, or  a condo, you have more control about the features, layout, and size, but it often depends on your builder. Finding the right home builder can be as difficult as finding the right home, so we've outlined a few essential qualities you should look for.
Connection
You'll be working closely and sometimes stressfully with your builder, so it's important to establish a good connection with whomever you choose. The success of the home building can depend on the quality of your working relationship. Before anything else, look for a builder who you like, trust, and respect.
Certifications
Your builder should be a professional, certified and insured. If something goes wrong, which can happen in any construction endeavor, you need a builder who can manage it.
Experience
Your home builder should have a strong resume of experience, particularly with the sort of home you want to build. Ask for a list of past projects and compare their floor plans and features with the house you've already envisioned. You should visit some of those homes to see them in their completed state, and review the inspection and building permit records. These are public, and though most builders may have a few minor violations, identifying major or repeated problems should prompt you to choose another builder.
References
In addition to a list of former projects, you should ask for some references. Because they have to live in the builder's handiwork, other homeowners can provide the best and least-biased appraisal his abilities. Ask how their working relationship panned out, what issues they encountered (if any), how those were resolved, and about their level of contentment in their new home.
Longevity
Finally, consider how long the builder has been working in your area. Because every municipality imposes specific restrictions on homes, it's helpful to choose an established local builder.
If you're planning to purchase, refinance, or want to learn more about our mortgage rates, simply fill out our Fast Response form or give First Option Mortgage a call at 888-644-1999.  Our experienced mortgage professionals would love to sit down and discuss your needs. We look forward to hearing from you!
Tags: first time home buyer, house hunting, Real Estate