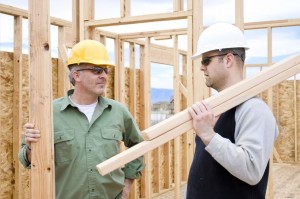 Whether you're remodeling a bathroom or building an entire house, hiring a good home contractor is the first and most important decision you'll make. Contractors aren't just middlemen between you and the handymen. They're responsible for quality-control, the schedule of work, and proper adherence to city and state regulations, so it's critical to hire the right one. If you're looking for a quality home contractor, these are the essentials you need to look for.
1. Certification
This should be a given, but too many people claim the title of "contractor" without any of the accreditation the government requires. Others may have been true contractors once but let their certifications expire. Either way, make sure any contractor you hire has the necessary license, and if you're interested in particular work, like building a LEED-certified efficient home, only consider contractors with such specialized certifications.
2. Experience
The best home contractors are the most experienced in every sense of the word. You should look for professionals who have lived, worked, and built in your town for years to ensure they're familiar with all of the zoning laws and regulations. Having built one or two homes won't instill in people the full range of knowledge necessary to complete yours without a hitch. Years of experience also result in better contacts, so your contractor can find the right plumbers, electricians, and carpenters for your specific needs.
3. Insurance
You need to hire a contractor who carries workers' compensation and general liability insurance in the event of an accident in your home. Otherwise, you could be liable. A good contractor should minimize any hazards and dangers on the site, but even a small chance is too great of a risk.
4. Work and Personality
Whatever you're hiring a contractor for, you should always remember at the end of the day it's your home, so you have to make sure your needs will be met. Browse every contractor's  previous work and see if it resembles your vision for your house or remodeling project. You should also consider the contractors' personalities. Are they amiable? Can you see yourselves working closely, on a time- and money-sensitive endeavor? This list certainly isn't exhaustive, but it's a smart place to start when looking for a quality contractor.
If you're interested in purchasing, refinancing, or learning more about mortgage rates, simply fill out our Fast Response form. Our experienced mortgage professionals would love to sit down and discuss your needs. We look forward to hearing from you!
Tags: Everyday Living, first time home buyer, house hunting, Real Estate