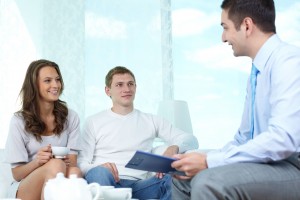 Refinancing is a major financial decision. While it can save some major money, rushing in rashly can also come with some major repercussions. Before you decide to refinance your house, you need to know what you're getting yourself into. To help, we've outlined the steps below.
1. Figure out Why
This might seem like a fairly obvious question, but it will actually produce quite a few different answers if it's asked of different people. Before you decide to refinance your home, decide why you want to. Is it to reduce monthly payments? Pay off your mortgage sooner? Set a fixed rate? All of these reasons are valid, but refinancing may not be the right solution to yours. Weigh all of your options, and take into account your current financial position and where you'll be when you pay off your current mortgage.
2. Assemble Paperwork and Shop Around
Depending on the type of refinance your looking at, you may need to provide previous pay stubs, proof of your financial assets, and at least two years of tax returns—and sometimes more paperwork. Assemble this before you go to meet with a lender, so s/he can give you an accurate quote. Keep a record of these quotes, make note of any additional fees a mortgage would require, and don't forget to factor in your connection with the lender. If you don't get along well, the refinancing process could become more arduous than it needs to be.
If you're underwater on your mortgage or want to consider a streamlined refinance option, there are some available that you can take advantage of. A HARP refinance or an FHA streamline refinance requires much less paperwork and often times do not even require an appraisal. Check with your lender to see if you qualify for either of these options and they can help you determine if one of these will be an advantageous program for you to take advantage of.
3. Apply for Refinancing
Once you've found the right lender and the right mortgage for you, it's time to apply. Your lender will run your credit score and in a few days give you a good faith estimate. As long as all of your paperwork is accurate, this should be close to the figure you received in your quote.
4. Wait for the Outcome
Lenders need to make sure everything is accurate, and it takes time to closely study your finances. Expect to wait 30-60 days between the application and closing, and expect a few questions from your lender. S/he may ask to see more pay stubs, bank statements, and even divorce papers if you have them. This is a normal part of the process.
5. Lock in Your Rate and Close
Once everything's approved, you'll lock your rate in; it can't rise, even if the market suddenly fluctuates. Before you sign your new mortgage, make sure everything looks correct, and ask any questions you might have. As soon as you're ready to refinance, sign the papers to close!
If you're planning to purchase, refinance, or want to learn more about our mortgage rates, simply fill out our Fast Response form or give First Option Mortgage a call at 888-644-1999.  Our experienced mortgage professionals would love to sit down and discuss your needs. We look forward to hearing from you!
Tags: first option mortgage, home mortgage, interest rates 2013, refinance, refinancing