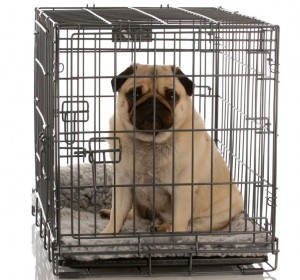 According to the Humane Society, 164 million households in the U.S. own at least one pet, which factors out to be 64% of all homes in the country. Since humans first domesticated dogs and cats, we've welcomed them into our lives and, at an increasing frequency, our houses. Many of these animals have essentially become family members, and when people decide to move, the wellbeing of their pets is often a chief concern. If you have pets, recently purchased a new home, and plan to move them, we've outlined a few of the things to expect.
Coping with Stress
Signing mortgage documents and closing on your new home will stress you out, but the process of moving may prove as stressful to your pet. Cats especially dislike change, and many dogs can sense anxious behavior or tense energy. Try to maintain a peaceful home in the weeks leading up to a move, or consider boarding your pet at a friend's home. If you planned open houses when you put your home on the market, you probably housed your pets somewhere else already. If there's a friend or family member willing to care for them for a few weeks, this stabler environment can reduce their moving stress—and keep them from running away at the last minute, which some cats and dogs are apt to do.
Introducing Change
Bring moving boxes into your home weeks before you actually pack. This small change will prepare your pets for the larger changes to come, as furniture and belongings quickly disappear during the move. Plan, also, to leave one room untouched for as long as possible, and move your pet's bed and/or litter box in there. When you begin moving out furniture, store your pet there and close the door to protect them from the sudden changes.
Preparing Them for Crates
If you have a long road trip ahead of you, you'll need to crate your pets for most of the drive, something they're probably not used to. Prepare them for crates by introducing it in the home long before you actually move. Place their food in the crate, and eventually try feeding them with its door closed. Once they're used to this, walk around with them inside the crate, and take them on short drives. This can make the eventual move much less difficult for you and them.
Acclimating to a New Home
You may be tempted at the end of all of this to set your dog or cat loose in the new home, but this is often too overstimulating. Instead, prepare one room in your new home for them, and give them time to acclimate before introducing them to other rooms and areas. New environments can be overwhelming, and some pets will run away, trying to return to your old home. If they become familiar with the house gradually, they're more likely to settle into it, just as you will.
If you're interested in purchasing, refinancing, or learning more about mortgage rates, simply fill out our Fast Response form. Our experienced mortgage professionals would love to sit down and discuss your needs. We look forward to hearing from you!
Tags: Everyday Living, first time home buyer, Real Estate