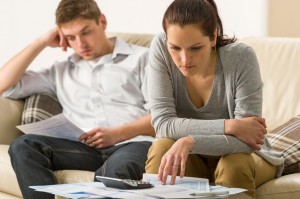 Since the housing recovery began, mortgage defaults have become rarer and rarer. All the same, 9% of home-owners need 40% or more of their monthly income to make debt payments, which means many people are at risk of default or over-extending their mortgage. With student loans, credit card bills, and other random debts, mortgage payments can be tight sometimes. If you're over-extended on your mortgage or have another financial obligation on the horizon, consider these four tips to avoid default.
1. Extend Amortization
15-year mortgages attract many buyers with their low interest rates, but they come with a heftier monthly payment. If you only have 10 or so years left on your mortgage, extend the remaining to 20, 25, or 30 years. This will significantly decrease the size of your payments, hopefully making them manageable for your current financial situation.
2. Consider a Floating Rate
Floating rates carry the risk of increasing significantly over time, but the initial low rate can be a life-saver in tight years. If you're hard-pressed but expect funds to free up in time, the risk of a floating rate can be worth the reward of not defaulting. Talk with your lender about what your options would be for a floating loan, and weigh them against your projected income when the one-year closed loan ends.
3. Sell and Rent
This may seem like a drastic measure, but it actually makes a lot of financial sense, depending on your current situation. If home prices in your area are high because of speculative building, rent is likely to be cheaper than most markets. Selling your current home and recuperating for a time in a rental property shouldn't be seen as a loss. Especially if you're over-extended, avoiding default will preserve your credit, ensuring home ownership can once again be in your future.
4. Discuss a Consumer Proposal
If these other options aren't feasible, talk to creditors about a settlement plan. Banks and other lenders want to avoid default as much as you do, and some will work out new terms, lower payments, or a payment bridge to help see you through a particularly difficult time.
If you're interested in purchasing, refinancing, or learning more about mortgage rates, simply fill out our Fast Response form. Our experienced mortgage professionals would love to sit down and discuss your needs. We look forward to hearing from you!
Tags: Home Loan, home mortgage, mortgage education, mortgage interest rates, mortgage payment