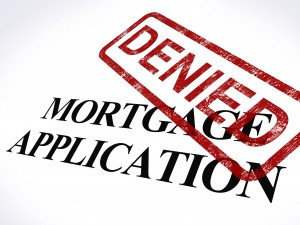 If your mortgage application has been denied, you're not alone. On average
27% of mortgage applications
are turned down by the ten largest lenders. The reasons vary from your credit rating to the appraisal on the home to inconsistent data on your application. Although it can be disheartening to find out your loan application has been denied, especially when it comes to something as emotional as a home purchase, don't assume it's the end of the road in your pursuit of home ownership. Here are the some steps you can take in the event of a mortgage application denial.
Find Out Why You Have Been Denied
The mortgage company has 30 days to notify you in writing as to why your mortgage application was denied, but your mortgage lender may also reach out to directly with reasons for denial. Review the reasons for the rejection with your lender and double-check all of your paperwork for accuracy. If you find an error in your application or missing documentation, take the time to correct it and resubmit it.
Credit Rating
If you are denied based on a low FICO score, there are a couple of recovery steps you can take. Start by getting a copy of your credit report and review it for any inaccuracies. If you see any on the report, write to the creditor and request verification of the debt. If they are unable to produce the verification, then you can write to the credit-reporting agency and explain that the debt has not been verified and it should be removed. In the event your credit report is accurate but your rating does not meet the minimum, you can look into applying for an FHA loan, which has less stringent credit requirements or look into obtaining a cosigner on your loan application.
Debt-to-Income Ratio
If you have been denied because you're carrying too much debt, you have two choices. You can take measures to pay down some of your debt or you can apply for smaller mortgage loan. Borrowers oftentimes overlook all of the added expense that comes with owning a home and think they can afford more than the bank believes is reasonable. If this is the case, discuss it with your mortgage broker and consider looking at homes in a different price range.
Appraisal
If the appraisal on the home comes in lower than the purchase price, the lender may very well not approve the mortgage loan. A low appraisal may be accurate, in which case you can use it as a tool to try to renegotiate the sales price on the home. Alternatively, you can pay for the difference at the closing table—or, if you believe the appraisal to be inaccurate, you can challenge the appraisal or request a second appraisal on the home.
Regardless of why your application was denied, it's worth taking the time to explore all of your options and to consider applying with another lender that may have less stringent credit guidelines. If it is an issue of a low credit rating or high debt-to-income ratio, there are steps you can take now to begin improving your creditworthiness and re-apply in six months to a year once you have made progress in repairing your credit. It may take a little time, but with patience and a little bit of work, you can experience a big payoff in the long run.
If you're interested in speaking with one of our lenders about First Options credit requirements for a home loan, want to see if you qualify, or want to discuss some of the first time buyer programs we offer, simply fill out our Fast Response form or give us a call at 888-644-1999. Our experienced mortgage professionals would love to discuss your needs.
Tags: Everyday Living, first option lending, first option mortgage, first time home buyer, Home Loan, home mortgage, house hunting, mortgage education, mortgage lending