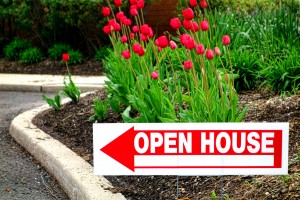 So, you're attending an open house in hopes of finding that perfect new house to call home? It's hard not to shout, "I'll take it!" at the first sight of any clean dwelling with the smell of home-baked cookies in the air (yes, that really happens).
But before choosing the house you may spend the rest of your life in, you should be asking a lot of questions about the condition of the house and looking for a few visible indicators in particular. Let's go step by step, room by room, into the queries, questions, and concerns every buyer should ask during an open house.
Entrance/front door
These are the standard, yet very important, questions that many buyers forget to ask, so we recommend starting out with these inquiries as soon as you step inside the house:
How long have the sellers lived in this house?

Why are they selling?

How long has the home been on the market?

Is this the home's first open house?

Have there been any offers yet?

Are there any major property disclosures?

What are the neighbors like?
Living room/family room
This is usually the first major room you enter after walking through the front door, so several of the hard-hitting questions should be addressed here.
Ask about lead paint. Homes built before 1978 may have lead in the walls, so find out whether it's been removed or simply painted over.

Ask what's beneath the carpet

. It could be hardwood; it could be rotting wood; it could even be concrete.

Take a look at the electrical outlets. If you find two-prong wall plates, the electrical system is probably older. If you see three-prong plates, it has most likely been updated.
Kitchen
Now is when you'll find out if that delectable smell of fresh-baked cookies was real or from an aerosol can. Whether you ask about the cookies or not, here are some other key kitchen concerns to inquire about:
First, ask the agent when, or if, the kitchen was last renovated.

Check the width and depth of cabinets and drawers with a tape measure, and make sure nothing is broken or squeaking.

Check under the sink for leaky plumbing fixtures or rotting wood.

Finally, find out if any of the appliances in the kitchen are included with the home, then ask how old they are. Most refrigerators will last about 10 to 12 years. Ovens can go for about 14 years. Gas and electric ranges will last between 14 and 16 years. And dishwashers have about a 9-year lifespan. Find out if any of the appliances are still under warranty, too.
Bathroom
Don't be afraid to ask questions about the "water closet," and don't feel weird about turning on faucets and flushing toilets. You can tell a lot by a bathroom's water pressure. Focus on these three issues:
Ask about any leaks or potential plumbing problems.

Find out how hard the water pressure is, and how quickly the water heats up. These could be

symptoms of bigger problems

.

Make sure all the cabinets and drawers open, and inspect for water damage.
Bedroom(s)
The same rules for the living room also apply to bedrooms:
Find out what's beneath the carpet.

Examine the electrical faceplates for two or three prongs.

Inquire about any lead in the paint.

Ask for the bedroom's dimensions, or measure it yourself to be certain.

Check closets and measure for dimensions.
Roof
Since you can't actually climb onto the roof for an inspection, you'll have to take the agent's word for it and rely on what you can see from below — unless they have some documentation to show (which is doubtful). Here are three issues you should be most concerned with:
Ask what type of roof it is.

Ask how old it is.

Find out if any repairs have been made.
Most roofs last between 15 and 50 years, depending on which type it is.
Asphalt shingles = 15 to 20 years

Metal roofs = 30 to 40 years

Wood shakes = 20 to 40 years

Tile/slate roofs = 35 to 50+ years
Front yard and/or backyard
Don't be swayed by how lush the grass is, or how beautiful a garden looks. There's much more to a yard than that.
Ask where the yard's property line legally begins and ends.

Ask if tool sheds and/or playsets are included in the purchase price (and get it in writing).

If you see a high fence, recent structures, or a pond or fountain, make sure they're not restricted by any homeowners' association regulations.
And remember…
Whether this is your first open house or your fifth one of the day, you can learn a lot by watching other potential buyers around you. If you see them walk in and leave after only a few minutes, the home is either a bust for them or has some obvious problems. But don't let that stop you from touring the open house anyway. It may be just what you're looking for.
Let us know how your open house adventures go on Twitter and Facebook, or get in touch with us anytime for all of your home and mortgage needs.
Tags: home buying, inspection, open house