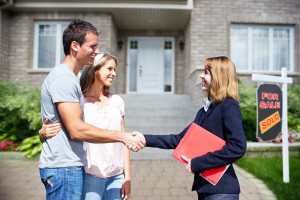 Are you a first-time homebuyer, or perhaps interested in helping first-timers with landing their mortgage? Getting a mortgage has a lot to do with being knowledgeable about the ins and outs of the market, but just getting your foot in the door may seem like a daunting task.
Fear not, though, because today we look at the best tactics to land your first mortgage, and how to actually sign on a mortgage that's worth having. Here's all you need to know as a first-time buyer, or what you should relate to a friend or customer if it's their first time looking at the market.
Save, Save, Save
If you've began saving on your mortgage, that's a good start! The first step in scouting out a good rate is saving up for a deposit. People like seeing money up front. Rule of thumb states the bigger the deposit, the bigger the savings you'll reap when putting in an offer.
There are government assistance loans you can look out for that require no down-payment to start a mortgage, but these will generally have rates that skyrocket compared to others. If you're looking to save money in the long run, look at FHA loans that require at least a 30% down payment on the home. Check out our infographic of these loan programs here.
Risk Assessment
Lenders will look at how trustworthy a borrower you are—and yes, that means looking so far as your credit history! For example, some lenders will calculate your risk assessment with a number called the Loan-to-Value Ratio, or LTV.
LTV will be calculated on how much you've put down on your potential home, or how much you currently own. They'll tally this against how much you're currently mortgaging. Say you're borrowing $60,000 on a $100,000 home. That means that you've put $40,000 down, or you have an LTV of 40%.
LTV's of 40%-60% will give you access to some of the best mortgage rates out there. Likewise, LTV's with minimum down payments, say 10%-20%, will give you less than ideal rates.
Use a Middleman?
People use realtors to corner the market on their home's ideal price. So wouldn't it be a good idea to use a mortgage broker to do the same for your ideal mortgage? Well, not necessarily. Brokers serve as middlemen with a commission in mind, so they'll often bend over backwards to get you the deal that you'll sign for. When it comes to finding you the desired house as fast as possible, this might be the right idea.
The difference between the two is that you'll be signing up for thousands of dollars in mortgage loans, something you do not want to rush. Patience is key when it comes to the mortgage market. First-time homebuyers should shop around mortgage rates, becoming experts in their area. Family-oriented lenders like First Option pride themselves on working hard to get the best deal to clients. If you're looking for a lender who will look out for you, consider us your First Option. Feel free to get in touch with us!
Know the Risks
As a famous person once said, "Great power comes great responsibility." Read through your mortgage agreement thoroughly. Know what impact your interest rate will have on your payments, and make sure you can afford the payments as the years move along. Also, know what happens if you can't afford your monthly payments. Be sure to have a rainy day fund to tap into in case of any life emergencies. When push comes to shove, invest in the wonderful bank of Mom & Pop, if you have to!
The responsibilities that come with having a mortgage are great, but for some, the rewards far outweigh them. Are you currently looking for a mortgage, or curious about where to start? Contact us and let us know! And feel free to contact us on Facebook or Twitter for leads on how to begin your journey into owning a home!