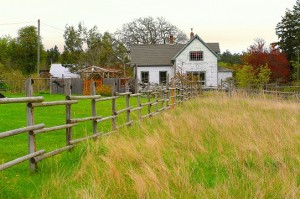 Does the peace and quiet of the country sound appealing to you? If not, maybe you're considering a move to the suburbs outside your favorite city, or interested in buying for the first time and not aware of the great options available.
If any of these sound like you, a USDA home loan may be the perfect program for you!
The USDA home loan program is the perfect option for families looking to start their home search. USDA loans have perks like low interest rates and zero down payment. These, along with some other reasons we'll discuss below, are why USDA loans are an excellent option for purchasing your first home.
What Are USDA Loans?
USDA is the acronym for the Agriculture Guaranteed Rural Development Program, created by the United States Department of Agriculture. It may sound like a mouthful, but the name says a lot. USDA loans are government-insured by the U.S. Department of Agriculture, providing loans for low or very low-income earners to bolster rural neighborhoods and communities.  
USDA loans are zero down payment mortgages for rural and suburban homeowners. As well as more flexible credit guidelines, USDA loans offer borrowers low interest rates and mortgage insurance.
In 2014, the Department of Agriculture invested about $20 billion to broaden the eligible neighborhoods for move-in. This means that some of the best suburbs to raise a family in America still qualify as "rural". For those eligible, a USDA loan might be the best option for you to start homeowning. But how do you know if you qualify for a USDA loan, or if the option is right for you?
How To Qualify For A USDA-Backed Mortgage
Some limits to income and household depend upon the state you're applying for. If you'd like to know for your particular state, visit the USDA website to learn more information.
USDA home loans fund single-family, owner-occupied residences. Other qualifications include:
A decent credit history. Lower credit scores could be subject to greater underwriting standards. Families without credit history can still apply with proof of diligent payments, like successful rental history.

Dependable income and the ability to pay monthly. Typically, your monthly payment should be about a third of your monthly income.

You cannot exceed the income level established for your county by the USDA as "

low income

".

Your home must be a primary residence that has suitable move-in conditions.
So what are the next steps? To apply for a government-backed loan, or to hear some of the other options that are available to you, consult with a lender! If you have any questions about other USDA-backed programs, like the USDA home improvement grant, let us know!
First Option Mortgage has USDA-experienced mortgage professionals that would love to sit down with you today. Get in touch with us and discuss your needs, and feel free to contact us on Facebook or Twitter if you have any questions about mortgages. We love being your First Option!