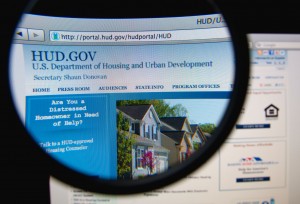 If you're
a first-time homebuyer
, are worried about your credit score, or you have a few bad marks on your financial history, it can be easy to get frustrated. However, you have an ally: The United States Department of Housing and Urban Development, or HUD. The department has a founding mission of encouraging home ownership and now plays a major role in rental assistance, insuring home loans, and keeping affordable property on the housing market.
History of HUD
In the early 20th century, the U.S. government began taking measures to encourage housing and homeownership. In 1934 the Federal Housing Administration began insuring loans from approved lenders, and it was soon followed by other policies designed to ensure the integrity of certain kinds of home loans. The other major component of pre-HUD policy was government funded housing in major American cities.
HUD became a cabinet-level position in 1965, and since then it has played several different roles in housing, with differing results. Opinions about HUD run the gamut, and it's historically been one of the most contentious departments. However, the practical value of HUD to homeowners is undeniable.
FHA loans and HUD homes
HUD does several things. The agency provides rental assistance to 4.5 million households, works to address homelessness, and helps construct public housing. For homeowners and homebuyers though, HUD has become a major player in connecting potential owners with affordable housing.
The Federal Housing Administration is a large part of HUD and they issue FHA loans, which are issued to first-time homebuyers, homebuyers with low or moderate income, or homebuyers with poor credit or previous foreclosures. If you think you might qualify for an FHA loan, ask your broker for details to see if you can benefit from one of these loans designed to encourage homeownership.
Sometimes recipients of FHA loans do default on them. Loans are inherently risky, and this will happen with nearly every kind of mortgage to some extent. These homes go back into HUD's possession, and the department very quickly puts them back on the housing market.
Buying HUD homes
Through the FHA, HUD allows homeowners who might not be able to purchase homes obtain the dream of homeownership. On the other side of that, HUD homes offer an affordable option for many homebuyers. The homes that HUD puts on the market are often below market value, and HUD is in the business of getting them back onto the market as soon as they can. If you're interested in buying a HUD home, talk to your lender. They could potentially hook you up with a house that is below market value.
The catch with HUD homes, though, is that these are foreclosures. They may or may not need major repairs. However, a low mortgage might be worth it if it means that you have to put in a bit more time and labor to make a house livable.
If you're curious about the details of FHA loans, get in touch with us anytime, and be sure to follow us on Twitter and Facebook.
Tags: government assistance, Government programs