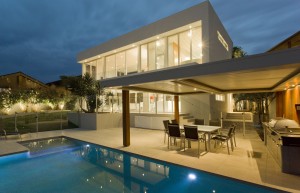 In every county in the United States, Fannie Mae and Freddie Mac have imposed conforming loan limits. These can vary, if you live in an especially high-cost area, but less than 200 of the 3,300 U.S. counties have limits above the national standard of $417,000. For most people living in the United States, home-buying options are limited to mortgages adhering to these governmental restrictions, which is where jumbo mortgages come in. Jumbo mortgages can allow you to buy a home priced beyond the Fannie Mae and Freddie Mack limitations, but because they can deal with huge sums of money, they come with additional requirements.
How Much Is a Jumbo Mortgage?
Technically, a jumbo mortgage is any loan greater than $417,000—or $625,000 for those living in high-cost areas. Generally, though, they're used for high-end, luxury homes, costing anywhere between $750,000-$10 million. Most applicants for jumbo mortgages are wealthy and looking for expansive, single-family homes. In some areas, however, even certain condos require a jumbo mortgage, which accounts for a recent increase in the loan's popularity.
Who Qualifies for a Jumbo Mortgage?
The underwriting process for a jumbo mortgage is exactly like those for conforming loans. The qualifications, however, are much more stringent. Because private mortgage insurance does not exist for jumbo mortgages, borrowers must put forth a larger down payment. Usually too they must have a 700 or greater credit score, no more than 45% of a debt-to-income ratio, and at least six months of payments saved in reserve bank accounts. Like with many loans, the appraisal of the home must support its purchase price, which can be the most difficult hurdle of the loan application process to overcome.
Are Jumbo Mortgages Worth It?
Few people can meet such qualifications, but those that can benefit not just on a larger home. The interest rates on jumbo mortgages are at historic lows—some of the best rates on any mortgage in the country. Additionally, up to $1 million of interest rates on loans is tax-deductible, which is a nice perk for those looking for luxury homes.
Whether you're hunting for a mansion or a modest starter home, we want to help you find it. If you're planning to purchase, refinance, or learn more about mortgage rates, simply fill out our Fast Response form. Our experienced mortgage professionals would love to sit down and discuss your needs. We look forward to hearing from you!
Tags: Home Loan, home mortgage, homeowner tax credits, interest rates 2013, mortgage education, Real Estate