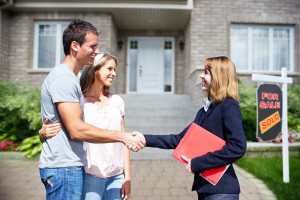 If you're looking to
sell your home
, there's a good chance your buyers will be looking to purchase a house for the first time. More first-time buyers are coming into the market. Between 2013 and 2015, first-time buyers decreased as a total share of the entire housing market. 2016 and 2017 saw a reversal of that trend. According to the National Association of Realtors (NAR),
first-time buyers made up 34 percent of the housing market last year
. That's a big improvement compared to an all-time low of 32 percent in 2015.
Before we get into what first-time buyers want, though, let's have a look at who they are.
Meet the first-time homebuyers
According to the NAR, these new buyers are young. Their median age is 32, which is an all-time high, and their median income is $72,000. They like homes on the slightly larger side, at 1,650 square feet, with a median price of $182,500.
Debt is one of the biggest factors that deters young people from purchasing a home. Most first-time buyers use personal savings as a down payment, and being required to service debt has cut into their ability to save. Student debt is by far the biggest impediment to saving. According to the Federal Reserve, the mean student loan balance for borrowers in their 30s is $31,000. That debt factors heavily into homebuyers' decision-making processes. Fifty-five percent of the first-time buyers in the NAR's research said that paying for their education delayed saving and therefore delayed buying a home.
But, with that in mind, what do they want from a home itself?
Open plan kitchen/dining areas
The formal division between the kitchen and the dining area has eroded in the mind of many younger homebuyers. A kitchen/dining area that shares space and turns the kitchen into a hangout area as opposed to a separate room for food preparation will be preferable to many millennial buyers. Likewise, rooms that flow together as opposed to being partitioned off from one another will allow for more flow, much like the open-plan offices that many young buyers will be accustomed to in their professional lives.
Home office space
Flexible schedules and working from home have become the norm for a large section of the workforce, especially for those younger than 40. Many first-time buyers will likely look for a room that was previously a den or guest room and turn it into a remote work area for days when they're working from home.
Energy efficiency
According to several polls, millennials care about the environment. Younger consumers look for sustainability and green technology in the products they buy and the lifestyles they live, and energy efficiency and green energy can be a part of that. Make your home energy efficient by adding insulation, LED lighting, and solar panels. Being able to point to all the features in your home that give it a lower carbon footprint (and lower power bill) will entice young buyers even more when they see it.
Social media appeal
Real estate professionals can tell you all about the importance of staging your home for an open house, about curb appeal, and about all the tips and tricks you can do to make your house look its best self. All that tried-and-true advice still applies when selling to first-time buyers. However, their first impression of your home probably isn't going to be when they walk up. These new buyers are likely to seek out your home on property websites and social media. With that in mind, make sure your home has some good virtual curb appeal. Get it ready for Instagram and Facebook the way you'd get it ready for an open house, so that the good impressions can start before buyers see it in real life.
Do you have tips on selling your home to first-time buyers? Share them with us on Twitter and Facebook, or get in touch with us anytime for all of your mortgage and real estate needs.
Tags: homeowner advice, Selling Tips, Selling your house