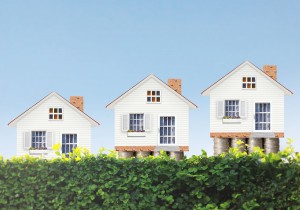 A mortgage is a mortgage, right? Some people believe that rates and terms are the same, regardless of the loan or residence. But you may be surprised to know the type of occupancy matters heavily.
There are three main types of occupancies. Each one accrues different mortgage rates, additional fees, and even some extra required qualifications. If you're curious about which type of occupancy your potential home falls under, then here are the three main types of homes you can buy, and what it means on your wallet.
Primary Residence
These are the homes that you plan on spending the majority of your time—homes and condos that qualify as your main place of living. It's the address you list on your driver's license, and you're often required to verify your address as your primary residence.
The positive to these homes are that they're the bread and butter for mortgage lenders. They're the easiest to qualify for, and they are the rates often provided when searching online. Also, they'll typically be much lower.
With a primary residence, you'll be able to take advantage of the specialized mortgages available to you. From FHA loans, VA loans, or USDA loans, the government assists those looking to move into their new or first house.
Second Home
For those that already have a home, second homes are those that will often stay empty—or, on the off-chance, rent out temporarily. These are primarily your vacationing homes, classified as secondary to your primary residence.
Think of these as the luxury condo by the beach, or a cabin house by the lake.
Lenders take many things into account when you apply for a second mortgage. Generally, they'll look at a variety of things:
Distance: Lenders typically give better rates to second occupancies that are closer to your primary residence, due to the higher chance of the occupant using the home and paying their mortgage.
Down Payment: The down payment you're looking to place on a second home will often be much more than a primary residence. This alleviates any risk the lender might have on you neglecting the property or giving up on it entirely.
Credit Score: You might find that credit score requirements rise when looking at second homes. Generally, you need upwards of 600 or more to qualify for a primary residence. For a second home, a score of 680 or more may be required.
Lenders are aware that secondary homes are a costly luxury, so rates and prices will increase to reflect the risk. There are some ways to reflect how well you qualify (such as here and here), however some might find all of these are in fact mandatory.
Investment Property
These occupancies are the ones built solely for renting—duplexes, fourplexes, and apartment complexes all consist of investment properties. As the name implies, these are homes that you will hold as investments for the sake of generating income.
Of course, these incur the most risk, so they have some of the harshest restrictions. You'll be considered landlord of your property, being responsible for your property and, by extension, the tenants renting that property.
If you're looking at an investment occupancy, lenders will be looking at a much larger down payment, often 15% compared to the 10% down payment from secondary homes. You'll even be looking at a 1% or higher rate increase.
One positive is that out of the three, investment properties are the easiest occupancies to work with lenders in order to finance. They'll work with you in order to help you get a safe and speedy return, as it helps them lower their own risk.
Each one of these different residences holds risk when it comes to putting your hard, earned money down. If you'd like to know the current rates for any of these residences, let us know! And if you have any questions, contact us directly on Facebook or Twitter.