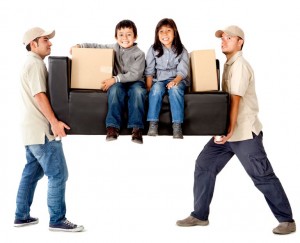 Whether you're moving across town or across the country, it's difficult to adjust to a new home, especially for kids. The process can often make them feel like their wholes lives have been uprooted, which isn't entirely untrue. New neighbors and a new school is a dramatic change, but you can prepare them for it. If you're buying a new home, try a few of these ways to help your kids adjust to moving.
1. Make Change Sound Exciting
It doesn't matter if we're eight or 58, most people tend to think of the worst things when we think about change. If you've bought a new house, your kids will likely concentrate on the things they'll miss—the best friend a few streets over, or the treehouse in your backyard. You can help them adjust by making the change sound exciting. Concentrate on the best features of your new home, such as the local parks and the benefits of their future school. If you make moving seem more like an adventure than tragedy, your kids will be better prepared for the change and more ready to adjust.
2. Schedule Time with Old Friends
Once you move enough, you understand and accept the fact that some friendships are temporary, that when you leave a place, you may never see some people again. Kids will struggle with this idea. Especially until they begin to make new friends, be proactive about scheduling time with their old ones. If you've only moved a short drive away, try to schedule weekly play dates, giving your kids the opportunity to return to familiar places, and letting them show off their new home. If the move is more substantial, coordinate Skype calls, and encourage them to write letters to remain social and connected.
3. Explore the New Neighborhood
If it's at all possible to explore the streets and areas around your new home before you move, do. Knowing what to expect will make the initial move less daunting and more exciting. If not, carve out a couple of nights each week to tour the neighborhood as a family. Walk, and re-walk, the route they'll take to the bus stop or school, and find the parks and local spaces they'll want to explore more on their own. If your kids have a better sense of the surrounding area, the house you buy will feel much more familiar and more like a home to them.
4. Move at the End of a School Year
Sometimes moving at the beginning of summer isn't possible, but it's always preferable. Your kids' teachers and end-of-year assignments will have them in a mindset already prepared for transition. Additionally, the paperwork and logistics of entering a new school district will be much easier over summer than in the middle of a term. While you're looking to buy your home, you should also be looking for qualities of a great school district to ensure your kids will attend a school they like and can benefit from. If you know and trust the administration, you'll also speak from more authority when you assure them the change will be good for the whole family.
5. Befriend the Neighbors
Sometimes you need to model social behavior with your kids, and befriending neighbors is the easiest way to do that. When you move into a new home, send out introductory cards or welcoming gifts to the houses along your street, and make a point to go greet neighbors as often as possible. Hopefully, you'll make friends yourself—and potentially meet other parents who have kids around the ages of your own. If you have any specific hobbies or interests, look into a local meetup or community group to improve your chances of meeting more.
6. Customize Their Rooms
The idea of customizing a room can appeal to anyone, especially kids, which can make their adjustment to a new space easier. Let them be as involved as possible in the process of decorating their rooms. Choose colors together by browsing some paint ideas for kids' rooms; allocate a small budget for them to buy posters or new bedding; and if they're old enough, let them arrange their furniture. By making the space their own, they'll have a sense of security in the new environment, which can embolden them even as they're sad about leaving their old home.
7. Let Them Know It's Okay to Be Sad
They will miss their old home, and they need to know that's okay, even healthy. Grieving and loss are important parts of life, and if they learn to process rather than repress these feelings, they'll adjust sooner—not to mention be better prepared for future challenges. Talk with them about their frustrations, and be patient with them if they cry or act out. Any move will be hard for kids, but if you follow at least a few of these tips, you can make the whole process easier.
If you're preparing for a move and are interested in purchasing, refinancing, or learning more about mortgage rates, simply fill out our Fast Response form. Our experienced mortgage professionals would love to sit down and discuss your needs. We look forward to hearing from you!
Tags: best time to buy a home, Everyday Living, house hunting, Real Estate