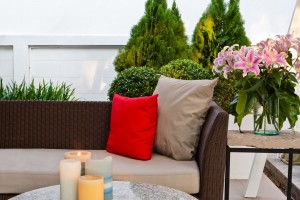 Fall is in the air! With the changing leaves and the colder climate, the last thing you might be worried about is weatherproofing your furniture. From common wood-patio furniture to wicker, keeping your outdoor furniture weatherproofed will help not only keep it looking good all year-round, but it'll also extend the life of your furniture for use several summers in the future.
Determine what type of outdoor furniture you have, and inspect it for any current damages. Let's get started with how to repair and weatherproof your furniture for fall and winter!
Wood
Wood and plastic are the most commonplace materials for outdoor furniture. Often these pieces will come pre-sealed with some form of polyfiber or matte finish. What you won't notice is that these finishes wear down over time. Treated wood is even more biodegradable, so once that finish is gone you can kiss your furniture goodbye. Or you can retreat your wood every few years or so.
Inspect each wood face on your patio furniture for any sealing that has worn down over time. Start by sanding these surfaces with sandpaper to lay bare the surface. Don't forget the bottom of the furniture, these are most likely the first places the wood's sealing will wear, bringing water up and into other parts of the wood.
Wicker
Of all the materials to weatherproof, wicker is perhaps the easiest. Bring your wicker furniture indoors to fully dry, as wicker holds collected water for several hours. Once dry, bring them out and apply either lacquer or varnish on the material. Apply it liberally, and be sure to do this at least once every fall, as the wicker will actually start to absorb its sealing.
One major issue to look out for during the sealing process is to not accidentally melt your wicker. The sealing will heat up, melting surfacing at high temperatures, so avoid sealing wicker when it's hot outside.
Metal
The worst thing to look out for with metal furniture is rust. If you don't, rust will spread to the rest of the furniture until it's unsalvageable. Begin weatherproofing your metal furniture by inspecting it for rust and sanding down the problem areas. Wood, metal, and masonry use the same weatherproofing seal, so be sure to apply the sealing liberally to all the areas that need weatherproofing.
Once your sealing has dried, apply a coat of paint of your choice. Wait for that to dry, then repeat!
Fabric
Fabrics are a more trickier material to repair. First, make sure your fabric is smooth and free of any tears or scrapes. This method has been tried and true since they've invented waterproofed fabric, but the wax involved will concentrate on these holes if you don't repair them first.
Laying the fabric out flat, use a wax sealing to paint a layer across one side of the fabric. The moisture found in the morning will absorb in fabric, so even the pieces that aren't directly in contact with nature should be covered with sealing. Once dry, flip the fabric over, covering the other side with this base wax.
There are also some newer, spray-based wax sealing that is used in weatherproofing boats. You're free to use these as well, but they must be liberally coated for full effect.
Any other materials we missed? Let us know on Facebook or Twitter. And contact us and follow our blog for all your other DIY necessities!