If you're feeling a little like a lion in captivity every time you set foot in your backyard, it might be time to upgrade to a bigger lot. In many cities, large lots are hard to find because extra yard space is at a premium. In the South, however, large properties remain abundant
and
affordable.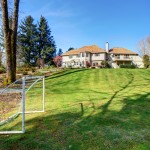 Recent data from real estate company Zillow revealed that properties in the Atlanta suburb of Lawrenceville, Georgia, have the largest lots in the country, averaging 14,375 square feet — plenty of room for the kids to roam while you host your barbecue.

Not only does the area offer big yards, but homebuyers also get serious bang for their buck in Lawrenceville. As of this week, the average home price in the area is around $155,000, or $25,000 under the U.S. median home price.
If you're looking to spread out, the South in general should be an area to keep an eye on. Runners up in the biggest backyard contest include cities like Fayetteville, Winston-Salem, and Durham, North Carolina, as well as Tallahassee, Florida. Average home prices in all of these cities are well below the national average (Fayetteville: $106,000; Winston-Salem: $112,000; Durham: $165,000; Tallahassee: $155,000).
Conversely, homebuyers looking for extra space in their yards may want to avoid Jersey City, New Jersey, Baltimore, San Francisco, and New York — the lot sizes in these cities average well under 3,000 square feet. To put that in perspective, the average lot in Lawrenceville is roughly the size of five tennis courts, while the lot sizes in Baltimore are just over half the size of a single tennis court.
Check out Zillow's full list of the biggest back yards here.
Looking to upgrade to a bigger space? Click here to apply online for a mortgage today.