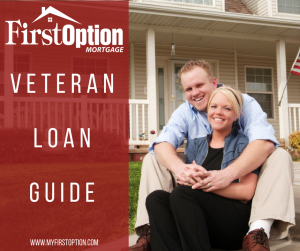 There's plenty of information out there about Veterans Affairs mortgages. VA loans, as they're more commonly called, hold some of the best advantages available on the market. Lower requirements, zero-down payments, and the most-competitive mortgage rates are just some of the benefits you might have heard about. Some first-time homebuyers might even qualify and not even know it!
It's easy to assume that applying for a VA loan is filled with red tape, but they're perhaps the simplest and most stress-free way to finance a home. That's why many VA families go down this route, taking advantage of a process that can save them hundreds of dollars in the long-run.

You can check out First Option's infographic to learn more about VA loans, or continue on to find a more on the benefits and how to qualify.

How To Be Eligible
Active members of the military and veterans can all instantly apply for Veterans Assistance loans. Surviving spouses and honorably discharged individuals are also considered eligible.

Members of the military qualify after 181 days of active service, or roughly six months. During wartime, eligibility halves to 90 days, or about three months.

Members of the Reserve or National Guard can still apply, but they do have to wait longer to qualify. Eligibility occurs after six years for members not on active duty. However, if called to serve they're eligible after just 181 days, as well.

Potential applicants qualify by obtaining their Certificate of Eligibility. You can find the requirements on the Veteran Affairs website and submit online via eBenefits. Most lenders can also guide you through the process, helping produce a Certificate of Eligibility for you in a matter of seconds.

If you're curious, a Certificate of Eligibility isn't required to start the mortgage process! To get a consultation and discuss the benefits, qualifiers can wait until the preapproval process to produce their certificate. If you're curious to see the difference firsthand, don't wait. We'd be honored to help you through it. Get in touch with us!

Advantages Of Veterans Affairs Mortgage
Because a VA loan is partially-backed by the United States government, banks have fewer restrictions to qualify. According to VAloans.com, 90% of VA loans do not require a down payment. Mortgage insurance isn't a requirement via VA loans. By not paying these costs, you could be saving yourself untold amounts of money. Gift funds and other forms of payment can be put towards your down payment, compounding even more of your savings.

Lower credit requirements and less paperwork to file also means fewer hoops you have to jump through. And despite credit ratings, VA loans give you access to the lowest and most competitive interest rates in the market. Reports show just a year or two after bankruptcy or foreclosure, applicants are able to re-qualify for Veterans Assistance Mortgages.

VA Streamline Refinancing (or IRRRL) and Cash-out refinances hold the same advantages against conventional loans. If you currently have a home loan and are looking to lock-in a lower interest rate, Veterans Assistance could be the option you're looking for.

Veterans Affairs serves as an advocate for their applicants, ensuring the process and payment goes smoothly. In the unfortunate event of late or missed payments, Veterans Affairs works with struggling borrowers. They'll negotiate with lenders on the borrower's behalf, organizing alternative payment plans or loan modifications.

If you require assistance on your VA loan, simply call the Office of Veteran Affairs at 877-827-3702.
No Down Payment! What's The Catch?
While the costs associated with VA loans are lower than conventional loans, there's still a funding fee replacing some of the fees associated. First-time VA loan applicants can see a 2.15 percent fee equal to the loan amount (1.25 percent with a down payment of at least ten percent).

The fee depends entirely on your eligibility. A ten percent down payment can see your fee going down to 1.25 percent, or 1.5 if you're in the Reserve/National Guard.
Does a VA loan sound like the right kind of option to get you into your dream home? Apply online and with a licensed professional to walk you through every step! You can also contact us directly on Facebook or Twitter!