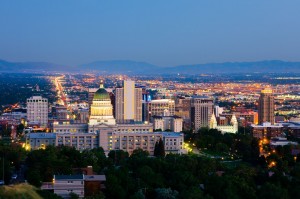 If you have been sitting on the sidelines and waiting for the right time to enter the Utah housing market, now may be a great time to consider jumping in.
Buying a home is a big responsibility and a hugely emotional decision. But if you look at just the facts about the current state of housing and leave the emotion out of it, there are three compelling factors to consider when making the decision to take on a mortgage in Utah.
Price to Income Ratio
The price to income ratio on a Salt Lake City home is currently at 1.44 and your Utah mortgage as a percentage of income is just 10.45% making Salt Lake City one of the more affordable places to live.
In order to determine if home prices are affordable for your income level, you can use a handy online calculator to see how much house you can afford. Based on lender guidelines, your debt to income ratio should not exceed 36%. If you use the average home price of $237,700 and factor in a 3.5% down payment, depending on you debt level and current credit rating, a household of even modest income can qualify for home at the median price.
Current Utah Mortgage Interest Rates
Mortgage rates have been bouncing around the bottom since late 2012 and have maintained near historic lows throughout the first quarter of this year. According to national mortgage giant, Freddie Mac, the national average on a 30-year fixed rate mortgage was close to a half point below its average rate from one year ago at 3.57%.  Getting into a 30 year fixed rate mortgage while the rates are low will benefit you for years to come!
Renting vs. Buying
Asking prices in Salt Lake City bottomed out 12 months ago and even as housing price increases are outpacing rental increases, the incredibly low interest rates and home values make buying the better option. Buying a home is now 44% cheaper than renting one nationwide. Even if you do not qualify for the best interest rate on the market, buying is still proving to be cheaper than renting for most people.
If you are considering purchasing and are interested in discussing one of the many Utah mortgage programs First Option offers, simply fill out our Fast Response form or give us a call in our Salt Lake City Mortgage Office at (801) 285-9540. Our experienced mortgage professionals would love to sit down and discuss your needs. We look forward to hearing from you!
Tags: first option mortgage, Salt Lake City Mortgage, Utah Home Mortgage, Utah Mortgage, Utah Mortgage Rates