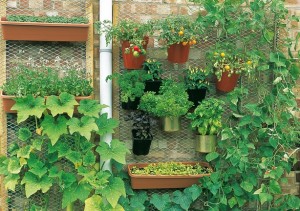 With the growth of local farming and organic produce, urban gardening is becoming more popular each year. "Outside the box" options like rooftop gardens, growing in vertical spaces, or turning vacant lots into thriving community gardens are all becoming popular ways to create fresh, local food in an urban setting. Interested in getting in on the trend? Here's some ways to get started.
Container Gardening
Wading Pools make an excellent cost-efficient container to begin your urban garden. Typically 3-6 ft in diameter and 12-15 inches deep, they provide a decent growing space and can be found for as little as $10.
To prepare your pool, drill 3/4″ holes every 12-18 inches around the circumference of the pool to drain excess water. Set your pool on level ground in a sunny location before filling with your growing medium. Follow planting instructions for your veggies and remember, because the pool is above ground, the soil will dry out more quickly. You may have to water more frequently than a typical garden.
Vertical Gardening
Vertical gardening not only allows you to farm in a urban setting, but can also be an attractive focal point for an otherwise barren wall.
You will want to find a wall that is around 6×7 in full sun. Purchase mesh wiring that you can attach a variety of pots and containers to. The mesh wiring will also work well for climbing beans and spring peas to attach to. When designing your garden, arrange larger ones at the base of the wall and leave space in-between plants so they can fully develop.
Community Gardening
In addition to being a great community resource, a recent study shows that people with plots in community gardens are less likely to be overweight or obese than those who don't garden. So if you don't want to do it to save money and lower the impact on the environment, do it for your health!
There are an estimated 18,000 community gardens throughout the US and Canada, so you may be able to find a thriving one in your neighborhood. If there is not already a community garden nearby you there are many ways to start one by working with friends, neighbors, local organizations and charities. The ACGA (American Community Gardening Association) has plenty of resources on its website to help you get your community garden off the ground.
If you have been thinking about planting a garden in your urban space, now is a great time of year to get started! Look into one of these suggestions or talk to your local urban farm shop to find out more about urban vegetable gardening  in your area.
If you're planning to purchase, refinance, or learn more about mortgage rates, simply fill out our Fast Response form or give us a call at 888-644-1999.  Our experienced mortgage professionals would love to sit down and discuss your needs. We look forward to hearing from you!
Tags: 2013 Housing Trends, Everyday Living, first option lending, first option mortgage, Gardening