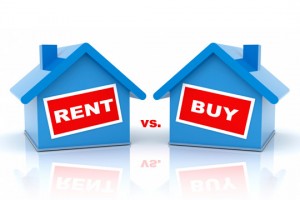 There has been a lot of talk lately about the rising interest rates and rebounding Ohio housing prices that showed an increase of
3.5% year-over-year
in April of this year and continue to see gains. While much of this is great news to current homeowners, renters who have been sitting on the sidelines may be feeling like the window of opportunity is closing on them. We are here to say emphatically, no! And, as a matter of fact, until mortgage interest rates hit 20%, it is still cheaper to buy than rent in Ohio.
Rent vs. Buy Analysis
In a report published recently by Truila, buying a home was still 44% cheaper than renting despite rising prices, even with asking prices of homes outpacing rent increases by 3.8%.  This analysis was based on a 3.5% mortgage rate, residing in a 25% tax bracket, itemizing federal tax deductions and assuming you are staying in the home for a minimum of seven years. Taking into account all of the costs and proceeds from buying or renting over the entire seven-year period, buying won out by a significant margin.
The Tipping Point
Obviously the tipping point for buying vs. renting will vary from market to market, and in higher priced markets like San Jose, San Francisco, Honolulu, and New York, interest rates need only increase to the 5.2-6% mark to turn the tides in favor of renting. However, in four cities studied in the Ohio market (Cleveland, Toledo, Dayton, and Akron) interest rates could go to an unprecedented high of 17.4-20.1% before it makes more sense for residents to rent instead of buy.
Where Mortgage Rates Are Headed
Despite the fact that mortgage rates have a long way to go before making the choice to rent becomes the smarter financial decision, rates are currently on the rise and based on recent announcement from the Federal Reserve on plans to reduce bond-buying, rates will their upward trajectory throughout the remainder of the year. The sooner you can take steps to obtain an Ohio mortgage and make homeownership a reality for you, the more money you will save in the long run.
If you would like to speak with an Ohio mortgage expert about your options, simply fill out our Fast Response form or give us a call in our local branch office located in Dublin at (614) 602-6020. Our experienced mortgage professionals would love to sit down and discuss your needs. We look forward to serving you!
Tags: 2013 Housing Trends, best time to buy a home, Columbus Mortgage, first option lending, first option mortgage, Ohio Mortgage