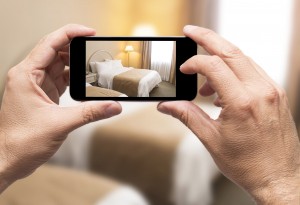 From music, photos, to keeping in touch—we use apps all the time nowadays. Oftentimes, we don't even thinking about it.
So what if you could minimize oversight when it comes to things like your bank account, your mortgage payment, or even you DIY work?
Here are five apps you can use on a daily basis to help simplify your life, and keep your mind focused on what you want to do!
Mint
Mint is a web and mobile-based personal financing application. It allows you to track your bank accounts, credit statements, investments, and loan balances all from one user interface.
Mint also helps you pay off your bills. You can set trackable financial goals and budgets. They also offer a free credit report once a year. It's like a one-stop shop. To download, go to Mint's website here.
Mortgage Calculator
Calculating a mortgage is so hard, why not use an online calculator to do all the hard work for you? Just enter your start date, loan amount, and your interest rate. The calculator will determine how long your term is, and how many months it's split into.
If you're looking for a calculator to use, we have a quick and easy calculator you can play around with. Adjust the numbers how you like to see what sort of loan you might qualify for! And contact us if you like what you see!
Home-Design and Lifestyle
Home offers a single remote control for a vast selection of items in your house. The app also categorizes lights, appliances, fans and thermostats according to the room. Sound too tough? The brilliant thing is Home also auto these items for you, allowing your lights to turn on when your GPS shows you're in the house, or off as you go about your day. You can download it on the App Store or Google for $14.99.
Design Home
If you've always wanted to design your very own layout plan, you can now do it in the comfort of your own phone! Design Home lets you look at properties for sale, using actual rendered furniture for sale to sketch out your dream home. Create the blueprint of your home here on the App Store or Google Play.
Zillow
Zillow's mobile app allows you to search through millions of for-sale and for-rent homes all across the United States. Seamlessly look through cities and neighborhoods in the searchable interface, view photos and video tours of listed home.
Or, you can use Zillow's budgeting tools to help you determine just how much of a house you can find. Zillow's app can get you in contact with a real estate agent, streamlining the entire home-buying process in the palm of your hand.
Go to Zillow's website to find the app for your phone. You can also find it on the App Store or Google Play.
These apps are indispensable when it comes to buying a home, and some of them are handy in the day-to-day. Are there any apps you personally use that weren't on the list? Let us know on Facebook or Twitter, or get in touch with us if you're curious about any mortgaging issues.