If you haven't noticed, winter is certainly here.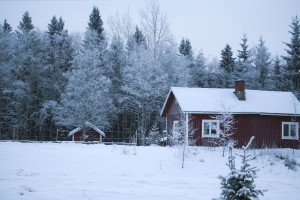 This year, many cities throughout the nation are facing record-breaking lows. While you've probably prepared yourself for the cold weather, have you prepared your home for it?
Winter is notorious for causing issues in and around your home. Busted pipes, insulation issues, and everything in-between are extremely troublesome—and not to mention costly. There are plenty of things you can do to help avoid running into these issues before it's too late. Here are a few to-do's you should add to your winter-proofing checklist.
Clean Your Roof and Gutters
Clean your roof off completely of dirt and debris that may have accumulated from over the year. Doing so will relieve your roof of extra weight and reduce the likelihood that anything will rot on your shingles. During your roof cleaning, you should also keep an eye out for any shingles that look damaged and need repair to avoid further damage from icy precipitation.
Insulate, Insulate, Insulate
A well-insulated home will not only mean a warmer space, but it can also mean energy savings and a lower utility bill. It's a win-win.
Ensure that the glass in your windows are in good condition and secure within the window frame. Do a quick test to see if there's a draft in front of your windows. If you feel even a slight breeze coming through your windows, you should consider replacing or repairing those windows. It can be a costly expense, but upgrading old windows with newer, energy-efficient models will boost your utility savings and will be worth it in the long run!
You can also help insulate your home by applying expanding foam insulation or caulk into gaps and holes around the exterior of your home.
Wrap Your Pipes
Frozen or broken pipes can only mean one thing this season: homeowner headaches. If you know that the weather will be hitting freezing temperatures, make certain that the water to your hose bibs are shut off inside your house, and that the lines are completely drained.
Also, think about pipes that pass through unheated spaces, like crawl spaces, basements, or garages. Wrap them with heating tape, or pre-molded foam rubber sleeves or fiberglass insulation. All of these items are easily available at hardware stores.
If you're planning to purchase, refinance, or learn more about mortgage rates, simply fill out our Fast Response form or give us a call at 855-662-7043.  Our experienced mortgage professionals would love to sit down and discuss your needs. We look forward to hearing from you!
Tags: DIY, Everyday Living, home improvement