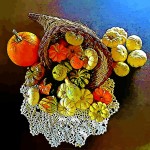 It's one of the most wonderful times of the year. Friends and families gather from far and wide to break bread and enjoy each other's company. It's the time of year when we experiment with turduckens, slather our mashed potatoes with cranberry sauce, and eat more pie in one sitting than we have all year. Thanksgiving can be a glorious affair, but it can also be a stressful one. Today we're offering a cornucopia of tips that will keep you and your family happy and safe this holiday.
Don't go too big
If you love to entertain and usually host Thanksgiving, you might be tempted to outdo yourself year after year. But if you keep trying to get bigger and better, you'll end up with a to-do list a mile long and create more stress for yourself. Stick with what works. And don't be tempted to invite everyone you've ever known. Save larger gatherings for other times of the year when you're not jostling for your friends' and family's time.
Do the turkey right
Ah, the centerpiece of the Thanksgiving feast. The turkey is the one thing you have to get just right. Give yourself plenty of time to thaw the bird before you throw it in the oven. You don't want to be cooking it last-minute and keeping your hungry guests waiting. Remember to cook safely, too. Stay home while you're cooking the turkey, and make sure to check it often. If you're going to deep fry it, make sure it's completely thawed before you dip it in the frier. Excess water and hot oil don't mix and could start a fire.
Light a candle or two, but do it safely
Speaking of fires, candles can be a festive touch to any holiday gathering. They can also be dangerous if not handled properly. Don't leave a room or go to sleep without first extinguishing them, and never leave a child alone in a room with lit candles. Keep candles at least one foot away from anything flammable, and secure them in sturdy holders on uncluttered surfaces.
Keep pets safe and happy
Your pets deserve to have an enjoyable holiday, too. Remember to keep dogs away from the usual offenders like chocolate, grapes, and onions. Other Thanksgiving foods can cause problems as well. For example, don't give turkey bones or other bird bones to your pets, as they can splinter and cause harm. Avoid feeding them fatty foods like turkey skin and gravy, as these foods can cause pancreatitis.
Go ahead and drink — just do it responsibly
It's the time of year to make delicious and festive drinks and to relax and chat the night away. Just remember to drink in moderation, especially if you'll be hosting, cooking, or driving home. Serve drinks responsibly, too. You don't want to be partially responsible for putting someone who's had a little too much spiked eggnog behind the wheel.
Travel smarter
The Thanksgiving holiday is traditionally the busiest travel time of the year. If you're flying, make sure to get to the airport early — about two hours before domestic flights and three hours before international flights. If you're driving a long distance, make sure your car is able to make the journey. Schedule a tune-up well in advance of your trip; many people will be thinking along the same lines.
Be prepared for anything
Installing and maintaining carbon monoxide detectors and smoke alarms is a good idea for any time of the year, not least of all during the holidays. If you haven't already, install detectors on every level of your home, near kitchens and sleeping areas, and inside bedrooms if you sleep with the doors closed. Be sure to test alarms once a month and replace batteries at least once every year. It's also a good idea to keep at least one working fire extinguisher in your home.
Don't do it alone
Entertaining is a tough business. Don't be afraid to ask for help. Your guests probably want to chip in anyway, so let them! Delegate easier tasks like serving drinks and taking people's coats so you can focus on your world-famous sweet potato pie. Plus, it'll feel more like a family affair rather than a one-man or one-woman show.
Live in the moment
It's easy to get caught up in preparations, cooking, entertaining, and everything else that goes along with the big day. Don't forget to breathe. Remember what the holiday is all about, and be thankful that you've had the opportunity to spend time with the people you love. Take time to enjoy their company and live in the moment.
Relax — you've earned it!
And when it's all over, take some time for yourself. You've put a lot of time and energy into making this Thanksgiving the best one yet. Now it's time to sit back, kick up your feet, and take a breather. Because no matter where you are or how you celebrate, you're likely only halfway through the holiday season.

Thanksgiving is a time to reflect on the things that mean the most to us. It's when we celebrate our relationships and create lasting memories. We hope these tips will help you celebrate safely and without any unnecessary stress. And we'd love to hear from you about how you prepare for the holiday. Connect with us on Facebook and Twitter and share your thoughts with us today!