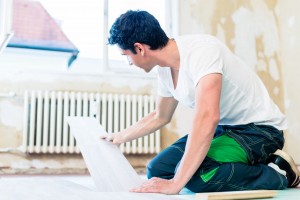 See that little 500-square-foot house sitting right next to your house? Oh, you call it a garage? And you let your car sleep in there? Rent free? That's a shame. Because that dingy old garage could easily become an extra bedroom, a home office, a man cave, a playroom, a gym, or even an apartment to rent out for some extra income.
We've touched on the benefits of buying a tiny home in the past, but now we're going to show you how you can convert your garage into whatever sort of space you want — for a LOT less than it would cost to build an all-new addition.
Where to start
First things first: What do you want to turn your garage into? An apartment? A master bedroom? A workshop? Each of these options will require different strategies. The good news is, whatever it's going to become is already structurally built. There's a foundation, walls, and a roof already in place.  
Next, decide whether you're going to make the changes yourself or hire a contractor. If you're handy and like home renovation, there is a huge cost benefit to tackling the project yourself. But if you're going to be installing a shower and water heater, you may want to consider bringing in a pro.
Get your permits
If you're planning on having someone live in the converted garage — whether it's a tenant or a teenage son — you'll need to obtain the proper building permits first. And if you're going to be adding in new plumbing or installing lighting, you may also be required to get permits for those as well.
Lay the groundwork
Make sure the floor height is above ground level, or the room could get flooded when it rains. You may need to raise it or, at the very least, make sure it's sealed enough to prevent water from entering. And be sure to insulate the floors and/or carpet them, both for aesthetics and for warmth during the winter.  
Next, insulate the walls and ceiling. Then add your drywall or preferred walling.
Then it gets a little more complicated, because you'll need to consider the heating and cooling of the space (especially if it will be some sort of living quarters). If it's an attached garage, you can connect right into your home's existing ventilation system. If the garage is detached, you may need to install some sort of heating and cooling system. The latter option may require upgrading the garage's electrical system to accommodate the required power.
The design aspect
Once all the hard stuff is done, you can begin the interior design of the new room.
First off, that garage door. Since it's the size of an entire wall, you'll either have to replace it completely or make it weather-tight and use it as the main entrance. There are some great ideas out there for either option.
How's the natural lighting? You may want to think about adding a window or two, especially if you're going to be spending large amounts of time in the space, or if you plan on renting it out.
What's the ceiling look like? How high is it? Adding some rooftop design elements will make the space feel bigger. You could also build some sort of a loft or second level as a bedroom.
The pros and cons
You might think converting an old garage into a new master bedroom or home office would increase your home's value based on added square footage alone, but that's not always the case. It really depends on the sort of job you do converting the area. A poorly crafted addition might actually decrease your home's value.
Additionally, you'll be losing that safe spot to park your car at night. That alone could deter certain buyers, if you're planning on selling. This is especially true in areas that experience extreme winters, or in neighborhoods without street parking.
Finally, one last thing to think about before you convert: the time and money involved. Depending on how big the makeover is, you could expect about four to six weeks of labor and several thousand dollars in costs. If you're adding a bathroom or kitchen into the area, you'll have to tack on an extra $10,000 or so.
Thinking of converting that garage of yours for a more desirable home on the market? First Option is always here to help. Get in touch with us anytime, or connect with us on Twitter and Facebook.
Tags: garage, Home renovation, makeover