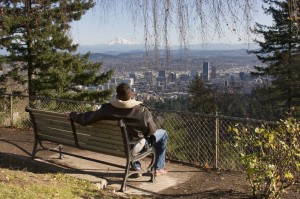 With so much talk about tightened lending restrictions and the "credit squeeze", there are many misconceptions about the amount of money you have to put down in order to secure a Portland mortgage.
Despite what you may have heard, loans have been made available through the federal government to provide potential Portland home buyers with the ability to purchase with little or no money down.
FHA Loans
An FHA loan allows borrowers to purchase with as little as 3.5% down. That means if you're looking for a Portland mortgage using the median home price of $275,000, your down payment could be as low as $9,625. The credit requirements to purchase a home under this program can also be less stringent than a conventional loan because the Federal Government will insure your home loan against default.
To be eligible for this type of loan, you need to meet the following guidelines:
At least two years of steady employment (preferably with the same employer)
Two years of consistent or increasing income
No minimum credit score, however a FICO of 620 or under will be subject to stricter underwriting guidelines.
No bankruptcies within the last two years and no foreclosures in the last three years
A minimum down payment of at least 3.5% of the loan
USDA Loans
If you are a city dweller, a USDA loan is not for you. However, if you are considering a home outside the city in Wilsonville, Forest Grove, Woodburn or other more rural areas, a USDA loan may be a good mortgage option for you.
There are income restrictions to qualifying for a USDA loan, but if you are in a low to moderate-income bracket, this type of loan could be the key to realizing the dream of home ownership – which isn't the only benefit:
100% financing options
Possibility to roll in closing costs means even less money needed at the closing table
Less stringent credit requirements (a minimum score of 620)
Low interest rates and mortgage insurance rates are available
VA Loans
Another zero down payment option,veterans who served on active duty and have had an honorable discharge after a minimum of 90 days wartime or 181 continuous days peacetime service are eligible to apply for this loan. Like USDA and FHA loans, the standards needed to qualify are more lenient than conventional loans:
100% financing
Low closing costs
Low interest rates and mortgage insurance rates are available
Less stringent credit requirements (a minimum score of 620)
To find out whether you qualify for one of these loans or to get more information about other available Portland, Oregon mortgages, simply fill out our Fast Response form or give us a call in our local branch office in Lake Oswego at (503) 840-6400. Our experienced mortgage professionals would love to sit down and discuss your needs. We look forward to hearing from you!
Tags: first option mortgage, first time home buyer, Mortgage Down Payment, Mortgage Rates Portland, Portland Oregon Mortgage