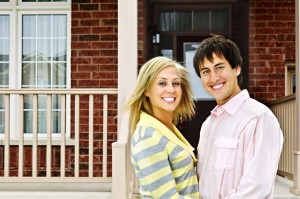 A few years ago, college graduates flocked to the coasts, starting their careers and taking up residence in New York, San Francisco, or Los Angeles. Today, that narrative is changing, and other cities are attracting millennial homebuyers— not to the edges of the country, but to the middle of it. According to new
research from the National Association of Realtors (NAR)
, the cities with the strongest economies, most affordable housing, and highest percentages of young people are now in the West and Midwest. These economic and demographic shifts have changed what places are considered the best housing markets for millennials, even as the percentage of millennial homebuyers has changed.
Where—and How Many—Millennials Are Buying Homes
In 2005, the number of homebuyers under the age of 35 peaked at 43% of the housing market. When the recession hit and the job market crashed, college graduates had a hard enough time finding work to make student loan payments; saving enough for a down payment on a mortgage was out of the question for most millennials. Today, homebuyers under 35 constitute just 36% of the market, and for many of them the high real estate costs of New York and San Francisco have made the housing markets there impossible to access. So, as younger individuals and couples reexamine their ability to purchase a home, they've begun looking inland.
The Top Housing Markets for Millennials
The NAR analyzed 100 metro areas where many millennials live and focused on statistics such as the cost of housing, job growth, and migration patterns of younger people. They determined 10 cities had the strongest housing markets for first time homebuyers:
Salt Lake City, Utah

Denver, Colorado
Minneapolis, Minnesota
Austin, Texas
Des Moines, Iowa
Dallas, Texas
New Orleans, Louisiana
Grand Rapids, Michigan
Ogden, Utah
Seattle, Washington
These metro areas ranked among the highest in annual influx of young people, but unlike San Francisco and other popular destinations, housing was much more affordable. Young residents could foreseeably purchase homes in these areas while they remained young, whereas many New Yorkers remain renters until late in life. The housing markets of Salt Lake City, Denver, and Minneapolis possess the allure and opportunities that attract young residents, but they have the affordability to retain and allow them to settle.
When Millennials Become Homebuyers
One of the other factors that ranked these ten metro areas as the best cities for young homebuyers was their staying power. Salt Lake City was recently ranked among the top housing markets in the entire country, due in part to its strong economy. Minneapolis, similarly, has seen a recent surge in millennial residents because it offers more job opportunities to younger employees than many other housing markets. With strong job growth, these urban areas don't simply attract Millennials: they retain them. These cities provide access to desirable careers, which keeps them from moving on to other cities or back to home towns.
Cities that retain younger people often see higher percentages of first time homebuyers—Millennials among them—because they give young professionals enough time to establish roots, meet spouses, and consider starting families. Buying a home is an inevitable next step. Fortunately for this demographic, these housing markets are affordable enough for twenty-somethings to obtain a mortgage and buy their first home.
If you're one of the many young Americans who's tired of renting and ready to settle down into your first home, fill out our Fast Response form. Our experienced mortgage professionals would love to sit down and discuss the opportunities and programs available to you to purchase a home, as well as provide you with information about mortgage rates or any mortgage questions you have. We look forward to hearing from you!
Tags: 2014 Housing Trends, best time to buy a home, Denver Mortgage, first time home buyer, home mortgage, house hunting, housing market statistics, Minneapolis Mortgage, Real Estate, Salt Lake City Mortgage