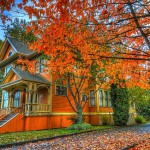 Last week we shared our latest
infographic with eight tips on preparing your home for fall
. These tips bear repeating as we head into the colder months. Sunnier days become fewer and farther between, and that means thoughts of home improvement also become more sporadic. But lest you forget, many home disasters happen during the fall and winter. Now's your chance to safeguard your home and family. Whether you're a do-it-yourselfer or prefer to pay someone do the work for you, just make sure you leave yourself plenty of time and get it done. Your safety and peace of mind depend on it.
Clear out the chimney
Did you know that more than 25,000 chimney fires happen in the U.S. each year, resulting in over $125 million in property damages? Most of them, however, can be easily avoided. Inspect your flue for creosote, a flammable chemical that can build up inside your fireplace from burning wood. Also be sure to examine the chimney for blockages, test your damper, and check for structural damage.
Repair the roof
Stop leaks before they happen. Repairing your roof regularly is 90 percent less expensive than replacing it. Inspect for damage around vents and chimneys, and replace missing or damaged shingles.
Clean your gutters
Cleaning your gutters regularly can save you a lot of major — and majorly expensive — home repairs. Clogged gutters can lead to exterior damage and a flooded basement. Make sure to clean out your gutters before the leaves start to fall. You might also consider covering them with mesh guards to save yourself the trouble of checking on them throughout the season.
Seal air leaks
Gaps in caulk and weatherstripping can account for 10 percent of your heating bill. Save yourself some money by doing a quick inspection for leaks and sealing any gaps you find.
Clean or replace furnace filters
Clean filters can save you 5 percent on your heating bills and make heating your home easier. You can clean disposable and foam filters with a vacuum to keep them fresh. Keep in mind that disposable filters can be cleaned once and then replaced, while foam filters can be cleaned and reused until you notice visible damage.
Protect your pipes
Thirty-nine percent of frozen pipe disasters occur in January, but that doesn't mean you can't get a head start. Be sure to drain all of your outside faucets. You might also invest in styrofoam faucet covers to prevent cold weather damage.
Inspect the furnace
Regular furnace maintenance costs about 10 percent of what a new furnace would. That means having it inspected at least once a year. Try to schedule an inspection for early fall in order to beat the rush.
Do a home safety check
Annual safety checks should be a part of every family's routine. Fire experts agree that you have about two minutes to evacuate your home during a fire. Test your family's fire escape plan now to ensure it clocks in under two minutes. Also be sure to inspect fire extinguishers, and test smoke and carbon monoxide detectors.
Whether it's fall or any other season, accidents happen. But you can do a lot to prevent them if you stick to this checklist. Stay tuned to the blog for more home care tips during the coming weeks as fall turns into winter. Or chat with us. We'd love to hear how you prepare your home for the colder months.