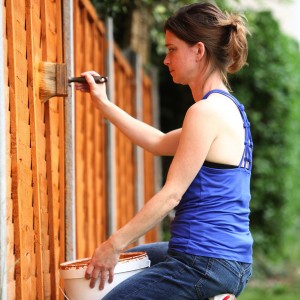 Except for winter sports, summer is the best season to do almost everything. It's the season to enjoy the outdoors, use vacation days, and tackle those renovation projects you have neglecting all winter long. While home renovations are rarely enjoyable to do, they can be much less taxing during the warmer months, when most people are looking for any excuse to go outside. The season can also be the least expensive time of the year to renovate, and these 5 projects can really boost your home's value.
1. Landscaping
As the first impression a potential buyer will have of your home, it's important to make your yard look as nice as possible. With great weather and plenty of plants in bloom, summer is the optimal time to landscape. Digging out shallow holes for a stone pathway, installing a flower bed, or just laying down sod in that one bare patch of grass can have a huge effect on your home's value.
2. Energy-Efficient Insulation
Depending on where you live, summer can be the most expensive time of the year for utilities. It's the perfect time, then, to make small renovations that will accrue big savings. Re-caulking windows and installing new draft guards on your doors can limit the amount of cold air that escapes. This is great for your energy bill, but it's also a great selling point for buyers wary of the costs to heat and cool a home.
3. Decks
If the house you're selling has a backyard, a deck or extended patio will show potential buyers they can enjoy it. Look into the costs of building a deck, and if you're handy enough, calculate the hours and materials it would take to construct one yourself. Even if your backyard lacks swing sets and ornate landscaping, a place to eat and lounge outdoors can increase its value to others.
4. Repaving
If you have an asphalt driveway—or have been wanting one, to replace gravel—summer is the best and least expensive time to do it. Because higher temperatures allow contractors more time to spread and level the surface, the warmer the day, the faster and cheaper the job. Having a paved drive without weeds or major cracks won't just beautify your home: It makes it a more valuable asset for sale.
5. Exterior Touch-Ups
Small improvements go a long way at making your home look nice, and they can affect your house's value too. Use the summer weather to make the improvements you've always put off. Repaint chipping areas of your house; fix leaky faucets; and replace busted boards in your fence. These smaller renovations don't cost much, and they boost the equity in your home.
If you're planning to purchase, refinance, or want to learn more about our mortgage rates, simply fill out our Fast Response form or give First Option Mortgage a call at 888-644-1999.  Our experienced mortgage professionals would love to sit down and discuss your needs. We look forward to hearing from you!
Tags: Everyday Living, housing market statistics, Selling Your Home