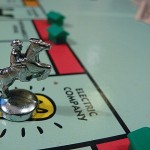 If you've ever played Monopoly, you know that investing in real estate can have its ups and downs. But when the game's over, all you've won is fake money and bragging rights. Real-life investing isn't a game. It takes a great deal of planning, commitment, and follow-through to be successful. If you're ready to try your hand at real estate, stick to these 10 tips.
Make a plan and stick to it
Strategizing now will provide a solid foundation for success. Start by creating some financial goals. Keep in mind that lenders require investors to have a solid financial background. It never hurts to build a comfortable savings account to prepare for market fluctuations and potential investment property expenses. You might even consider investing in an accountant. He or she will help you follow a road map.
Stay educated
Making a plan also means deciding what type of investor you want to be. Are you interested in commercial or residential properties? Should you purchase single-family homes or apartment buildings? What about retail space, offices, or even farmland? Focus your efforts and learn which type of investments best fit your style. Read plenty of real estate blogs, books, and magazines. And learn how to keep a keen eye on market trends, such as peak times to buy and where you should be buying (more on that in a bit).
Start slow and work your way up
Start with lower risk investments, at least while you're getting your feet wet. Beware of investing burnout, too. Some people go all-in too fast and find out that they're in too far over their heads. Pace yourself!
Don't jump the gun
Investing is a marathon. Rash decisions could lead to unforeseen complications. Remember, too, that there's a fine line between rushing to invest and holding out too long. You may never find that perfect property. Think of it in Monopoly terms: You can't expect to land on Boardwalk with every roll. You need to invest in smaller properties and create a cash flow that will let you net the big fish when it finally swims by.
Expand your search
Many investors stick to what they know, searching for and buying properties only where they live. Wise investors know when it's time to move outside their comfort zones. It's all about staying tuned in to the right channels and jumping on opportunities, even if they take you off your beaten path.
Know the risks
Investing in income property isn't like buying a house. When you buy a house, you know how it's being treated and how much work needs to be done. You might not always have a steady stream of tenants, either. That's where financial planning comes into play. Hedging the risks by building a solid financial foundation will allow you to better deal with the unexpected, such as surprise repairs or a lapse in tenants. Change can happen quickly. Prepare to be flexible.
Take care of your properties
Investment properties are a big responsibility, especially if you're going to be managing them yourself. Not all tenants will treat your spaces with the same respect. You should also treat your properties like you'd want other investors to treat theirs. You don't want to invest in a fixer upper, for example, only to find problems that you couldn't initially see.
Be picky
Don't try to buy from sellers who aren't actually motivated to sell. Why? Because you almost certainly won't get the price you're looking for. Pay attention to the property. If a home has been on the market for a while with little change in price, that might mean the sellers aren't motivated. If, on the other hand, a property's price tag has steadily decreased, it may be the time to pounce.
Network, network, network
We can't stress this one enough. Networking opens doors. Those who prefer to go it alone — no matter their chosen profession — miss out on opportunities to connect with like-minded individuals. When you connect with other investors, you can learn from their successes and their mistakes. It also gives you a chance to partner with the right people.
Know when to ask for help
Presumably, if you've built a solid network of peers and mentors, you'll have someone to turn to when the going gets tough. Again, investing is a marathon. Your fellow investors will help you along the way and make sure you get to the finish line.
Ready to start investing? You can do it if you stick to these 10 tips. For more information about the programs that First Option Mortgage offers specifically to investors, feel free to get in touch with us today. We're always happy to help point you in the right direction.