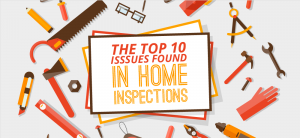 It doesn't matter whether you're trying to buy or sell a home; a failing grade after an inspection can cost you money, time, and unnecessary stress. Depending on when your house was built and what materials were used, for instance, you could be in for a surprise or two the next time the home inspector comes around. Don't be caught unaware. Our top 10 issues to look out for (and fix ASAP!) will keep your
buying or selling journey on track.
1. Human error
A mix of architectural styles, shoddy or old building materials, amateur workmanship, and poor upkeep can all spell disaster. Some issues can't be helped, but most can be solved with a quick DIY remodel or by calling in some experts.
2. Roofing Problems
Nobody wants a questionable roof over their head. Materials like shingles and cross beams may have deteriorated after years of protecting you from Mother Nature's worst. Stucco can also raise flags if it's cracked, stained, or hiding mold.
3. Poor drainage
If the area immediately surrounding your home is sloping or grading by even the slightest degree, water could be entering your house without you realizing it. Enlisting the help of a landscaper or tackling the project over a weekend, you can keep yourself and yours dry.
4. Faulty wiring
Not only is poor electrical wiring a fire hazard, but unsightly wires are a huge turnoff for people interested in buying your home. Most folks aren't electricians and shouldn't be messing with wires. It's best to call in a professional to assess the issue and make the necessary fixes.
5. Out-of-whack HVAC
You can feel it in your bones when something's not right with your heating and cooling system, especially during the bleak winter months and sweltering summer. But if your HVAC is whack when the inspector comes calling, you'll feel it in your wallet.
6. Bad plumbing
A poor plumbing job could mean your house is a ticking time bomb. Backed-up pipes can burst, causing flooding or — even worse — a sewage leak. Under-the-sink problems can usually be fixed in an afternoon. For larger issues, you'll need to call in professional reinforcements.
7. Poor insulation and ventilation
Relying on your heating and cooling system to keep you comfortable is one thing. But if your home itself isn't cooperating, you have a problem. What's the use of running the air conditioning in 90-degree weather if the cool air isn't staying in your house?
8. Cracks around windows
If the molding around windows is cracked, you're basically inviting water, air, and pests inside. When water seeps in through a crack, it can lead to mold, rotting wood, or other unseen issues. Consider patching cracks or replacing the windows entirely to keep out these unwanted guests.
9. Old appliances
The turn-of-the-century stove you inherited from your grandmother might look cool, but it may be an accident waiting to happen. Older appliances likely aren't very energy-efficient, either, which means you're probably feeling it in the wallet when your bill comes every month.
10. Environmental concerns
Mold, asbestos, lead: three words homeowners or potential buyers don't want to hear. Sometimes this just comes down to wear-and-tear; other times it's due to neglect. Either way, a freshening up of your home's nooks and crannies could be all you need to make that final sale.
Sources:
HGTV "Common Problems Found During Home Inspections" bit.ly/1tHrtGO
Point2 Homes "14 Common Home Problems Buyers Should Look For" bit.ly/2ikkr8I
realtor.com "How to Conquer the Huge Problems Found During Home Inspections"  bit.ly/1Uaxecu
Tags: DIY, home repairs, infographic, Selling Your Home