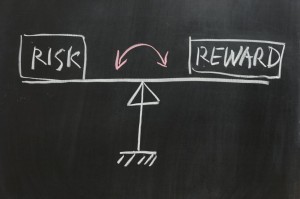 Since the housing market solidified its recovery, many investors have returned to the world of real estate—and many others are wondering if they should too. With high demand and low inventory across the country, the basic laws of economics predict good things for the return on real estate. Of course, most predictions depend on your specific market, but for anyone considering real estate investing, we've compiled a few of the risks—and rewards.
Market Predictions
Sometimes the length of a street can determine the success or failure of real estate investing. What state, city, and neighborhood you purchase in will play a huge role in how well your house will appreciate. Before making a cavalier decision, study where young families are moving to, where businesses are investing, and where both are not. If you can catch the initial wave and invest in an area before prices skyrocket, you're liable to reap a huge reward; if not, or if you buy in a declining neighborhood, you could risk a lot of your investment.
Potential Cash Flow
Unlike most investments, which require you to wait years to see any reward, real estate can provide immediate cash flow. If you have steady renters, paying substantially more than your monthly mortgage payment, you're guaranteed some cash in hand, even while your investment is building equity and appreciating. Of course, unstable renters or vacancies run the risk of losing some money in the short term—but if you can afford the extra mortgage on your own, you're still building equity.
Responsibility
Some investors shy away from real estate, because they view the responsibility as too great a risk. Assuming liability for property repairs, difficult tenants, and the mortgage can be daunting, but the reward is great. If you directly own the house yourself, you make all decisions yourself and earn all profits. Most other investments require you to share money earned with others. Real estate investing does require skills in property management and identifying good renters, and if you possess (or acquire) these, you can see great returns, and keep them all to yourself.
If you're interested in purchasing a home for yourself or as an investment property, refinancing, or learning more about mortgage rates, simply fill out our Fast Response form. Our experienced mortgage professionals would love to sit down and discuss your needs. We look forward to hearing from you!
Tags: 2014 Housing Trends, house hunting, housing market statistics, Real Estate, real estate investing