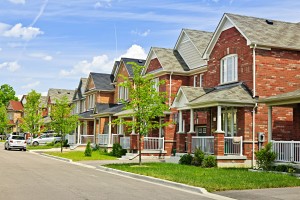 When you make the decision to purchase a home, you have to weigh several factors before you move forward with the homebuying process. Determining your
mortgage lender
and your realtor are the first and most critical steps in the process. But once you have chosen your team of professionals, the daunting task of finding your ideal home will become your primary concern.
If you have started the homebuying process in the right order, you should already have pre-approval from your lender and know the price range you will be home shopping in. That likely still leaves thousands of potential homes in your market to choose from. To narrow your search still further, you will want to select the area you wish to purchase in and then decide whether you want to purchase new construction or purchase a resale. Today we will cover the pros and cons of buying new.
Buying New Pros:
Oftentimes if the home is not already too far along in construction, you will have the ability to select various layout option, add-ons, and many of the finishes that come with your home. This means that you essentially get to build a home that will perfectly suit your family, lifestyle, and taste to a tee.
You can also expect fewer repairs with new construction. Providing you purchased from a reputable builder, you won't need to worry about replacing the roof, windows, furnace, or appliances for years to come. You can also expect most builders to use more efficient appliances during the building process, which can save you big on your energy bill long-term.
Finally, when it comes to incentives and concessions, you can expect homebuilders to have more flexibility than an individual seller, and you may even be able to take advantage of lucrative mortgage financing perks through the builder that can save you money for years to come.
Buying New Cons
Many of the customizations and the finishes you may have been shown in the model home are not included in the initial price of the home. Builders will usually showcase a home with all of the premium add-ons and finishes. This means if the base price of the home was already at the top of your budget, you will most likely find yourself in stripped down version of the home you originally fell in love with. Before you buy, make sure you have a full understanding of what comes standard and what is an upgrade, and be sure to account for the cost of all of the upgrades you expect in your home before you move forward with the purchase process.
Another consideration is the location of builder communities. Older, more established homes tend to be in more desirable neighborhoods that are closer-in, whereas builder communities tend to be on the outskirts of town or in bedroom communities of metropolitan areas. That doesn't mean that it is an undesirable location, but if your hope was for a short commute or city living, you may have a tough time finding new construction to accommodate that.
Finally, it is worth mentioning HOA's as a possible downside. While they certainly have their benefits; a monthly, quarterly, or yearly fee will be assessed on all homeowners in the neighborhood and HOA's typically have a list of community guidelines that can restrict what color you paint your home, how often you mow and water, and how you maintain the exterior of your home. If you want more character in your neighborhood and less conformity, a builder community may not be for you.
There is no one size fits all rule to whether a new home or a resale will be the right choice for you. It is really a question of your personality and lifestyle needs. But it is worth weighing both the pros and the cons before you make a decision on what you want to purchase.
If you're planning to purchase, refinance, or want to learn more about our mortgage rates, simply fill out our Fast Response form or give First Option Mortgage a call at 855-252-8573.  Our experienced mortgage professionals would love to sit down and discuss your needs. We look forward to hearing from you!
Tags: first option lending, first option mortgage, first time home buyer, house hunting