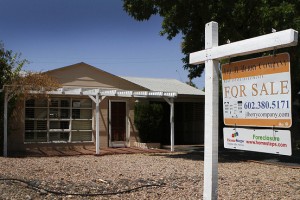 After suffering some of the most substantial loses during the housing crisis, with home prices falling off a full 55% between 2005 and 2011, Arizona is now experiencing a housing boom that has led prices to surge almost 30% since the beginning of 2012 and 40% since 2011.
So what's fueling this remarkable turnaround?
Prices are still competitive:
Even though gains have been staggering in the market (particularly compared to other cities in the US), Phoenix home prices are still competitive. If you compare the median sales price today to where it stood at the height of the market, it is still 43% below the peak prices of 2006.
Cash investors:
The activity of investors coming into markets like Phoenix and Las Vegas is fueling home prices and adding some stiff competition for homeowners who depend on financing to purchase. Phoenix ranks 14th on the list for best markets to buy a short sale in and as long as there are deals to be made, there will be investors looking to get in to bet on the housing rebound.
A housing shortage:
Developers and builders are scrambling to purchase property and apply for housing permit starts to catch up with the population growth and market rebound. In 2012, nearly 12,000 new houses were built in the region, a 71% increase over 2011. But to put that in perspective, that is 48,000 less homes than were built during the peak in 2005-2006.
These factors plus a recovering economy that has moved Arizona to the number five spot for job growth, are all playing a role in the burgeoning recovery and momentum is not expected to slow down anytime soon as we roll into the busiest season of the year for real estate.
If you are interested in speaking with one of our Phoenix mortgage lenders or are interested in getting more information about the loans we offer, simply fill out our Fast Response form or give us a call in our local branch office located in Scottsdale at (480) 751-3400. Our experienced mortgage professionals would love to sit down and discuss your needs. We look forward to serving you!
Tags: 2013 home prices, first option lending, first option mortgage, First Time Home Buyer Phoenix, housing market statistics, Phoenix Mortgage, Phoenix Real Estate, Real Estate Trends