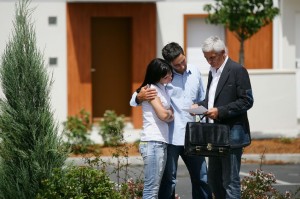 While mortgage interest rates in Phoenix are still low, housing prices are increasing rapidly. October's Standard and Poors
Case-Shiller Index
had Phoenix at the very top of the list, posting a 22% increase in home prices compared to one year ago.
Although home prices are beginning to recover, they are still low enough to snatch up a great deal. Couple this with the current low interest rates and some great federal and Arizona state incentive programs, and now may be the perfect time for first time home buyers to enter the Phoenix real estate market.
Before you dive head first into house hunting, here are some helpful tips and resources you can use to make your first home buying experience a great one.
Look at Current Incentive Programs
Before you begin to consider what you need in the form of a down payment and what your monthly expenses will be, it is best to look into all available incentive programs to see if there is one you qualify for.
On a federal level, there are three incentive programs that can provide you with little or no money down on your mortgage. This includes the FHA loan program, VA loan, and USDA loan program.  Each of these programs has different qualifications, but all of them provide a low or no down payment option.
There are also loan assistance programs specific to Arizona and the Phoenix market that you may qualify for. Both the Phoenix Open Doors Initiative Loan Program and the Neighborhood Stabilization Program include down payment and/or closing cost assistance along with other ways to make buying affordable for new homeowners.
Get Pre-Approved
Now that you have determined whether you qualify for one of the many homeowner incentive programs in Phoenix, it is time to shop for a mortgage and get pre-qualified. This will give you an idea of the price you can afford and which Phoenix neighborhoods you can explore. It will also show sellers that you are a serious buyer and can be used as a negotiating tool if you decide to make an offer.
CAUTION: what you're pre-approved for and what you are actually comfortable paying a month can be two very different things. Make sure you speak with your Phoenix mortgage lender about your financial situation so they can help guide you into a mortgage that you can afford.
Consider Hiring an Agent
The Phoenix real estate market can be complicated and competitive. A local market expert can help you choose the right location, advise you what to look for when house hunting, and may even have access to information about listings not yet on the market. A real estate agent is especially helpful if you're looking at a short sale or foreclosure and can represent your interests with the banks.
TIP: First Option Lending offers referrals to pre-screened Real Estate agents. Begin receiving and reviewing listings that meet your criteria immediately! We have trusted Real Estate partners that specialize in nearly every area, so you can be assured that you'll work with someone that has a strong knowledge of your desired neighborhoods.
Finding the Right Home
Make a wish list before you begin your search and identify the Phoenix neighborhoods you want to zero in on. Before deciding on a home, be sure to check for signs of mold in the basement, check the age of the hot water heater and furnace, and look for any structural issues. To ensure you get the best deal, it is important to try to look past cosmetic imperfections that can be easily changed like paint, window coverings, wallpaper, furnishings and décor.
TIP: There are several popular neighborhoods that have seen appreciating values in the Phoenix market as of late. Review the recent history of how the Phoenix neighborhood you're interested in is performing in the market. There may be an opportunity to buy low and sell high if you make your purchase at the right time!
Negotiate!
Don't be afraid to negotiate on price, the amount the seller should contribute to closing costs, or what the seller should take care of prior to closing. Typically, a good home inspection will provide you with leverage to ask for some home improvement concessions, so make sure you find a highly trusted inspector.
If you're a first time homebuyer currently looking to get pre-qualified for a Phoenix Mortgage or want to learn more about mortgage rates, simply fill out our Fast Response form or give us a call at 888-644-1999. Our experienced mortgage professionals would love to chat with you about how First Option Lending can help.
Tags: best time to buy a home, first option lending, first option mortgage, first time home buyer, First Time Home Buyer Phoenix, house hunting, Mortgage Lender Phoenix, mortgage lending, Phoenix Mortgage